Several buy now pay later apps in India (BNPL) have developed in the Indian market recently. These applications function similarly to credit cards in that they provide users with an instant credit line that can get used to paying for things like utility bills, meals, and shopping. This way offers a quick and straightforward alternative for consumers to fulfil their everyday costs without worrying about running out of cash. Let's look at some of India's most excellent Android, and iOS buy now pay later apps.
| | |
| --- | --- |
| Article | Best Buy Now Pay later Apps in India 2023 |
| User | Android, iOS |
| Language | English |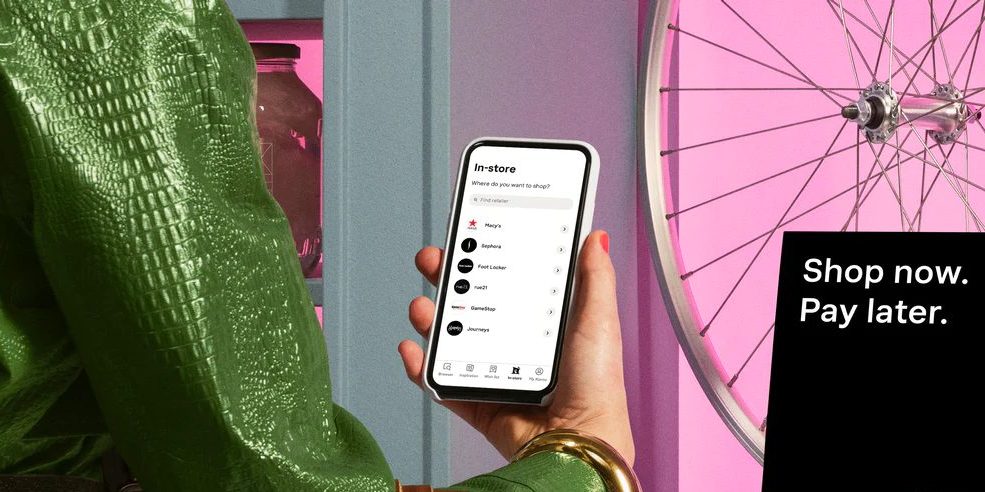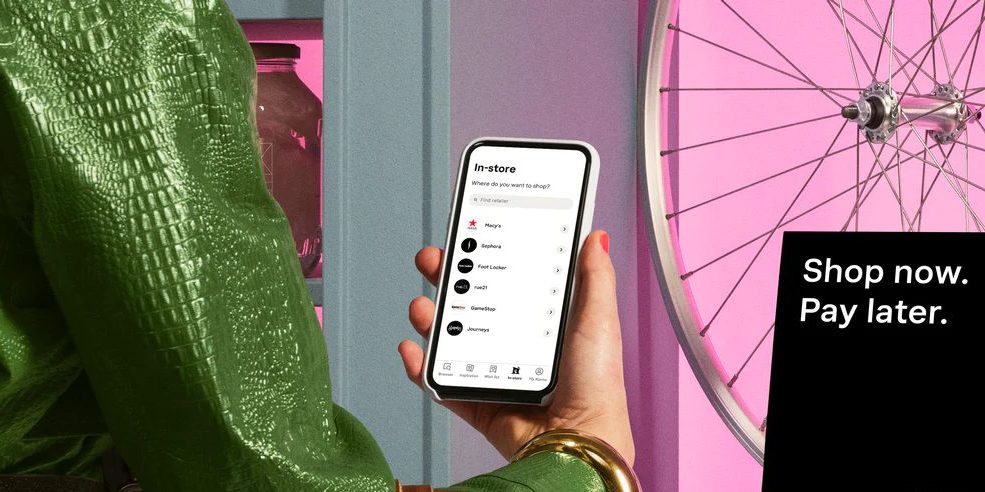 Best Pay Later Apps India May , 2023
The buy now, pay later apps (BNPL) concept is like credit cards, is based on disbursing small-ticket loans to consumers in the form of a free credit line. You can spend up to a particular amount online or in-person and then reimburse it on the agreed-upon date with no interest or penalties.
Buy now, pay later apps services might be a fantastic way to manage cash flow for someone who does not have access to a credit card. However, considering many BNPL apps available, deciding which one to use may be tricky. Here we've listed together with the buy now pay later apps in India known to make things easier. Continue reading.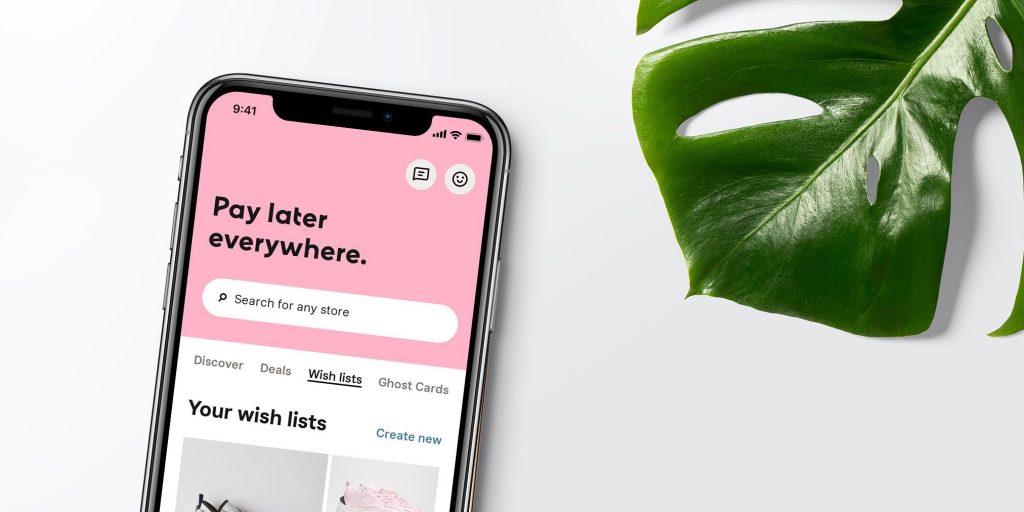 LazyPay App
LazyPay is one of the most popular buy now pay later app options in India. With a paperless KYC process, it provides a quick credit line. Moreover, to deal with all merchants who use UPI, you can scan and pay or use your UPI ID.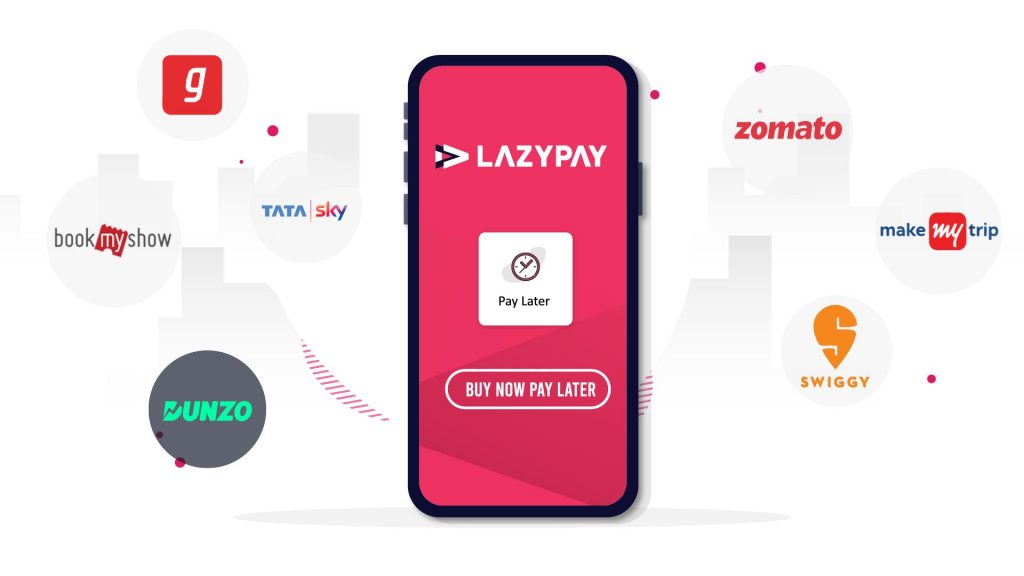 Offline retailers and online services
such as Ola, Uber, Flipkart, Myntra, Zomato, Swiggy, Bookmyshow, and others accept payment. If your transaction exceeds $10,000, you can convert it to Easy EMI using one of the following programs. LazyPay offers a 15-day interest-free period. You must repay and settle the amount you have spent every 3rd and 18th of the month. You can set up auto-pay or pay by
debit card
, net banking, or UPI.
LazyPay Key Features:
With Lazypay, you can Scan and Pay with UPI
Customers can pay on online merchants like Zomato, Flipkart, and Swiggy
LazyPay provides a maximum credit limit of up to ₹1,00,000 to its customers
Regular offers on merchants
15-day zero-interest repayment cycle
LazyPay Offered by: PayU India
Simpl Pay Later App
Simpl is another Android and iPhone app that allows you to buy now pay later India facility with a single swipe. It may get used to making direct payments on websites such as Zomato, Dunzo, Rapido, Gaana, BigBasket, 1MG, and others. It also allows you to pay utility bills from within the app, such as prepaid and postpaid mobile, power, DTH, and broadband, utilizing a credit limit. It, like LazyPay, provides retailers with regular offers and discounts.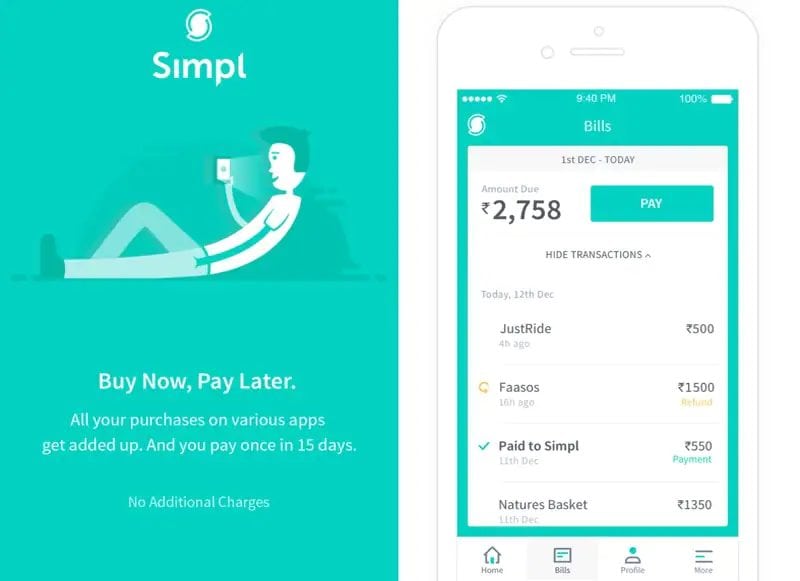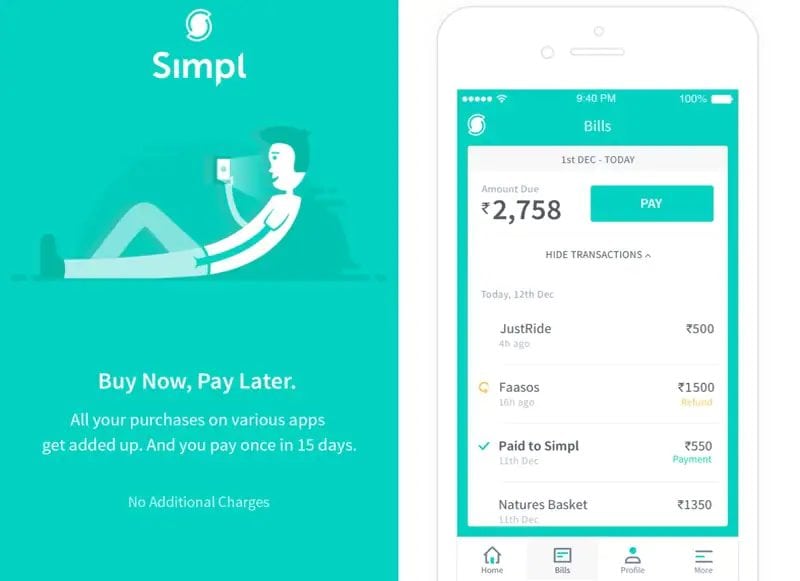 The bill is created twice a month and has a 15-day repayment schedule. So if you are going to make your payments on time, there are no hidden fees or charges. The best thing with Simpl app is that you don't need any KYC papers to start using Simpl.
Simpl Pay Key Features:
Discounts and offers on merchants
Simpl Pay customers can pay online on supported merchants
You get a 15-day zero-interest repayment cycle
Customers can pay utility bills with the provided credit line
No KYC documentation is required with the Simpl app
Simpl Pay app is Offered by: Get Simpl Technologies Pvt. Ltd
Bullet- Pay Later App
The bullet is a dependable postpaid UPI app from Jupiter, a modern banking platform that has a buy now pay later facility. In addition, it offers up to $10,000 in interest-free credit for UPI payments. This credit limit can get used to paying online and offline merchants who accept UPI payments. The bullet pay app may get accustomed to purchasing items from Swiggy, Zomato, Amazon, Myntra, Bigbasket, and others. Bullet pay app also allows you to pay bills directly from the application. It includes cell phone recharge, electricity, water, and gas bills, among other things.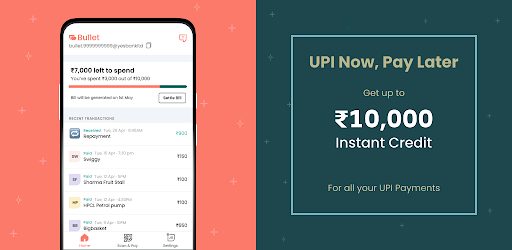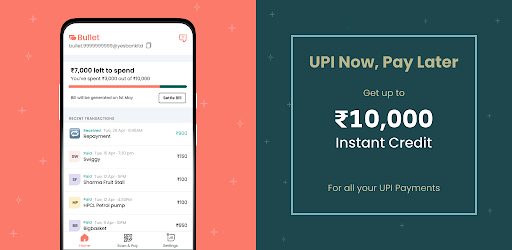 Every month, a bill is generated on the 15th and the last day of the month. You have five days from when the bill is generated to make the payment. Unfortunately, the onboarding of new clients appears to have been temporarily halted by the Bullet app.
Bullet Pay Later App Key Features:
Customers get a credit limit of up to ₹10,000
Easy to pay online on apps like Swiggy, Zomato, Amazon
With bullet pay, customers can also pay mobile recharge and other utility bills
It provides a 15-day zero-interest repayment cycle
Bullet pay app is offered by: Amica Financial Technologies Private Ltd.
Paytm Postpaid
Paytm is one of India's most widely used payment apps. Customers can also use it as pay later apps; Paytm also offers its active clients a Paytm Postpaid option, which allows them to pay later. Go to Paytm > All Services > Loan & Credit Card > Paytm Postpaid to activate it.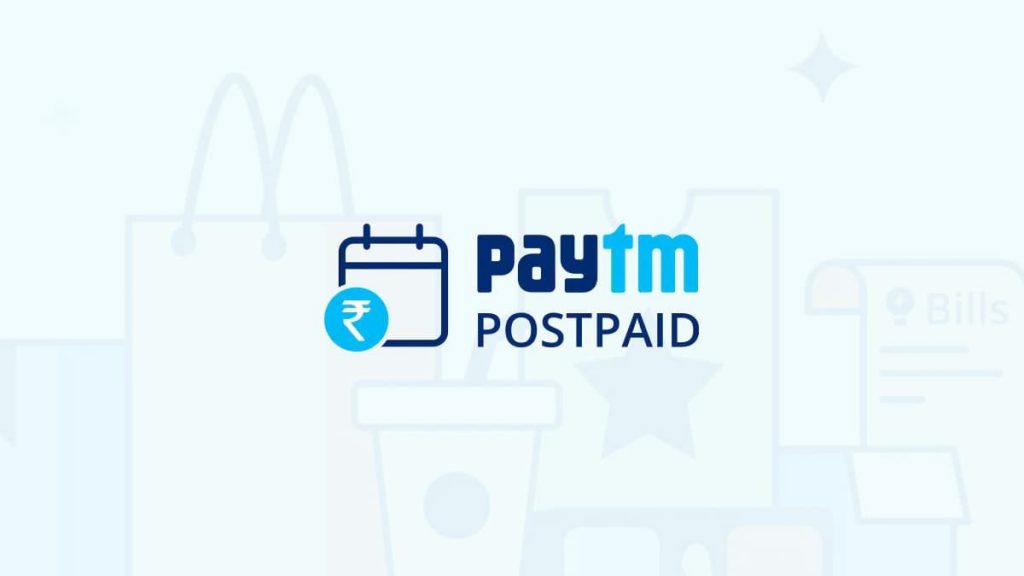 You can use the Postpaid service to pay for qualifying services or make payments to partner merchants. When Postpaid is an option, it will appear immediately in the payment options. Recharges, Paytm Mall shopping, and other merchants around India are all included. The bill is created monthly. Your Postpaid spend limit is determined by your transaction history, Paytm relationship, and credit bureau credit history.
Postpaid MINI, Postpaid LITE, and Postpaid DELETE are the three options currently available. DELITE has no convenience costs, but the other two carry a 1-3 % convenience charge on total spend.
Paytm Postpaid Key Features:
Customers can Pay at Paym merchants and also online partners
It is easy to make bill payments or shop on Paytm Mall
With Paytm postpaid, you get a 30-day zero-interest repayment cycle
With Paytm postpaid, you get the maximum limit of up to ₹60,000
It helps to build a credit score and convenience fee applicable on MINI and LITE
Paytm postpaid app is offered by Paytm (in partnership with Aditya Birla Finance, Clix Finance)
Amazon Pay Later App
Amazon operates its Pay Later app in India with loan partners IDFC First Bank and Capital Float. The e-commerce giant offers users a zero-interest credit line based on their credit history. You can use the Amazon Pay Later app to make purchases on the site. You can also use credit to pay for things like water, energy, cell phone bills, and groceries.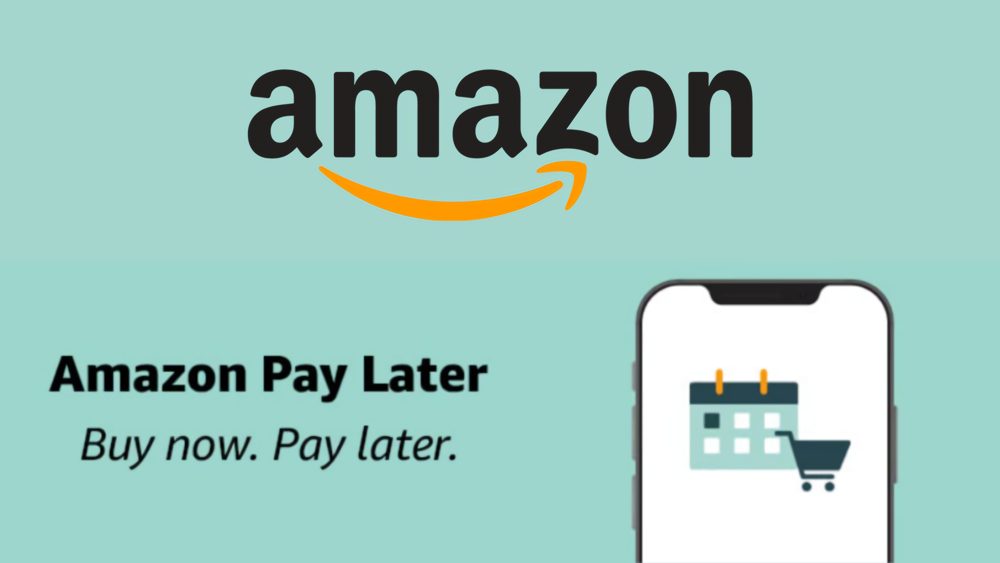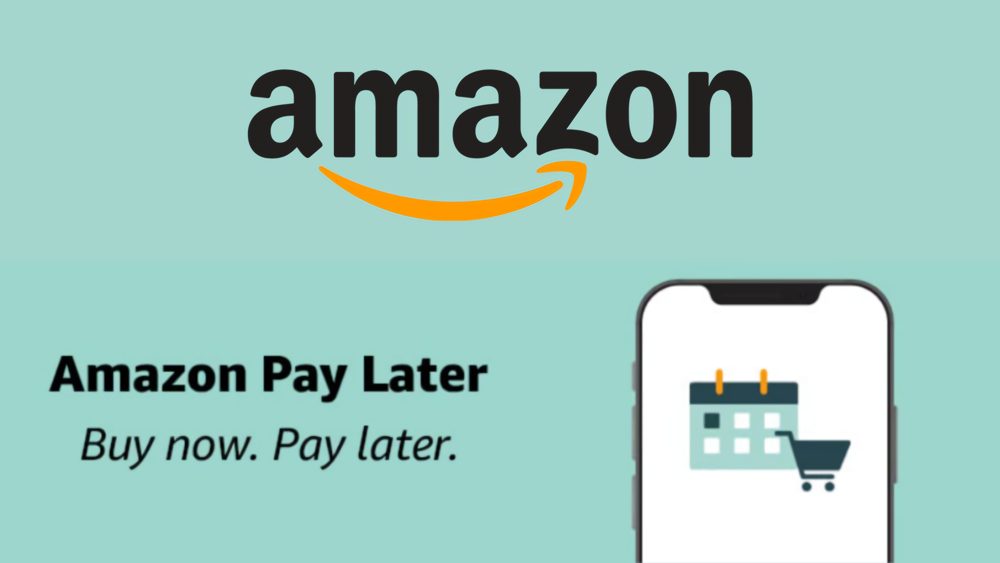 The money can get paid on the 5th of the next month or over 3 to 12 months through EMIs. It does, however, need you to set up auto-repayment, which means the app will deduct the sum from your bank account every month. Pay Later is available in the Amazon India app's Amazon Pay section.
Amazon Pay later app key features.
Customers can shop on Amazon with Amazon Pay Later
Customers can pay mobile, water, electricity bills
Amazon pay later app gives you a 30-day interest-free repayment cycle
It brings a maximum limit of up to ₹60,000
Amazon Pay Later is offered by Amazon India (in partnership with Capital Float/ IDFC First Bank)
Freecharge Pay Later
Freecharge Pay Later provides you credit facility up to ₹5,000. The users can use it for payments on Freecharge or other merchants. The application gives its customers a monthly billing cycle. With Freecharge pay, later interest is levied on the amount used. Freecharge Pay Later annual fee is charged by Axis bank, the amount of ₹199 k.
Flipkart Pay Later
The Flipkart pay later can get used to shopping on Flipkart. The app gives up to 35-days of free credit and a maximum limit of up to ₹70,000. The Flipkart pay later is provided in partnership with IDFC First Bank. The app gives a usage fee of Rs 10 on bill amounts greater than ₹1,000.
Mobikwik Zip Pay Later App
You can pay later to pay bills and on brands associated with the Mobikwik application. In addition, Mobikwik gives 15 days of Interest-free credit, and customers get up to ₹30,000 limits. However, the customers have to pay a one-time activation fee of ₹99.
Pay Later by ICICI Bank
The Pay Later by ICICI Bank is only for eligible existing ICICI Bank customers. The customers can pay bills, make payments to merchants using a UPI ID, and do shopping. Pay Later by ICICI Bank provides up to a 45-day credit duration. The application can be accessed via the iMobile app, ICICI Pockets, and net banking.
Ola Money Postpaid
The customers can use this service for postpaid to pay for Ola Cabs. This pay later service by Ola has accepted over 300+ apps. The application should include its customers' many discounts and offers which can get used to save money. The bill is generated every 15 days, and there are no additional charges.
Best Pay Later Apps For Students 2023– Slice
Are you are looking for the best buy now pay later for students? then the slice is the best option for you. If you're a student without a CIBIL score, the Slice credit card is a good option because it doesn't require one. After getting a slice card, you can easily build your credit score with regular use and timely payments. That's why, Slice has a good market position among people without credit, like students or housewives.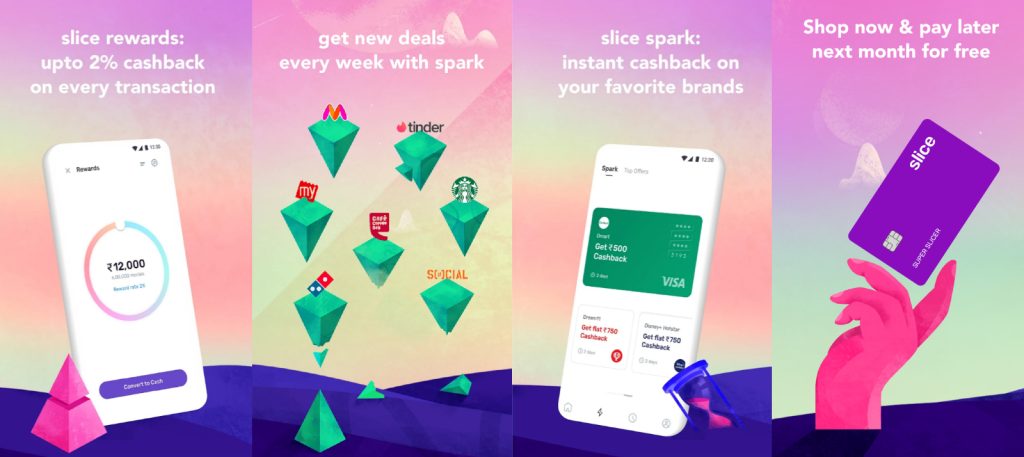 However, You should avoid Slice if you already have credit cards because it's a prepaid card with a line of credit.
Moreover, Slice lets you pay in 3 EMIs without any fees. But if you pay your Slice credit card bill in more than 3 EMIs, you'll have to pay 12-15 percent interest. Slice also offers a feature called "Sparks" using which you can get up to 30-50% cashback from Myntra, Flipkart, and IRCTC. Slice calls them Sparks. Moreover, You get 1-2% cash back when you use a slice card on top of the Spark Discounts.
So, If you are a student and don't have a credit score, get a Slice card because timely payments will help you build one. It's also free (No joining, No annual fee). With no foreign markup fee, the Slice card can save you money on international transactions like buying a domain or course outside India.
No credit history is needed.

Can help you build CIBIL score.

No cost EMIs for 3 months, no processing fees on EMI.

Zero Forex Markup Fee
The reward rate is low compared to other entry-level cards.

Several Slice app permissions can be problematic for some. Ex – SMS, Camera, Location, Contacts, etc.

Getting in touch with customer support and closing a card can be cumbersome.
Is There Any Pay Later Apps Without Pan Card in India?
Several online apps are available in India that offer the option to pay later, however, without a Pan card, you will not be able to use them. Without a KYC, you can't access any pay later apps. Be it Amazon, Flipkart, Olx, MakeMyTrip, MakeMyTrip, TataCliq, etc., they all demand a valid PAN card to access the service. However, some apps do not require you to register your credit card information in order to use the pay later feature. Dominos, Big Basket, Yatra, Foodpanda, and Fastrack, for example. This feature is also available on Myntra, but it requires a security deposit of Rs. 500. In case of late repayment, the company will debit Rs. 500 from your default card.
Points Before Using Pay Later Apps
If you are going all by now pay later apps when are few points which you should consider:
Buy Now Pay Later apps should only be utilized when you know you'll be able to pay it back on time, not as a way to get free money.
Your credit score, relationship with these apps, and other variables will determine whether you are eligible for a credit line or not.
Delaying the payment might result in a significant late fee and other fees, such as an exorbitantly high-interest rate.
Even missing a single payment might lower your credit score, limiting your future borrowing options.
The majority of buy now pay later apps will show up on your credit report as loans. So having too many of them open can have a negative impact on your credit score.
Do not fall for a dodgy online rapid loan or credit line app advertisements and posts.
You can read about all bank and bank account-related details on our website. Click Here
FAQs
Which Buy Now Pay Later App Is Best In India?
There are many buy now pay later app available in India. We have listed some fantastic day later applications like LazyPay, bullet pay, Paytm pay later, amazon pay later, etc. You can also read the key features of these later applications above.
How Safe Are PayLater Apps?
Pay later apps approved by the RBI are as safe as any bank app. Many of them adhere to PCI DSS standards to safeguard their customers' personal information and privacy.
Can I Use Pay Later Apps Without The Internet?
You cannot use paylater apps without an active internet connection. To use the paylater apps, you need an active internet connection.
How To Pay Later On Zomato Using Pay Later Apps?
Go to
www.zomato.com
or the Zomato app. Order from a restaurant of your choice. Then, select 'UPI' as your payment method and input your PayLater VPA, or select 'Net Banking' and PayLater as your payment method.
What Is The LazyPay Pay Later App Limit?
Users of LazyPay can access a credit limit of up to Rs 1,000,000. Use your credit limit to shop online across 100+ apps and websites, take a quick loan directly to your bank account, or make a significant purchase on any partner merchant and pay in easy EMIs.
Pay U's subsidiary, Lazy Pay, has been approved by the RBI as an NBFC.
Conclusion
These are India's top BNPL (buy now, pay later apps in India) applications. Amazon Pay Later and LazyPay are two of my favorites. In any case, which one is your favorite? Do you prefer BNPL services or credit cards? We'll be glad if you let us know your views in the comments section below. Stay tuned for more articles like this.