National Heritage City Development and Augmentation Yojana Details | HRIDAY scheme cities list | HRIDAY scheme UPSC details | IAS parliament schemes
HRIDAY scheme full form is National Heritage City Development and Augmentation Yojana. The Ministry of Housing & Urban Affairs has started the National Heritage City Development and Augmentation Yojana, an HRIDAY scheme, on 21st January 2015. The


HRIDAY scheme was created to retain and revitalize the country's rich cultural heritage. The HRIDAY scheme seeks to promote heritage restoration, strategic planning, and sustainable development in heritage cities. Accessibility, protection, welfare, livelihood, cleanliness, and faster service delivery are priorities in the National Heritage City Development and Augmentation Yojana.
The HRIDAY scheme's task time expired on 31st March 2019. HRIDAY scheme put together spatial planning, economic growth, and heritage restoration in an inclusive way.
HRIDAY scheme has aided in constructing key heritage-related civic infrastructure initiatives, such as revitalizing urban infrastructure in areas surrounding the cities' heritage, religious, cultural, and tourism properties. Water supply, sewage, irrigation, waste control, access roads, footpaths, street lighting, visitor conveniences, power wiring, landscaping, and other citizen utilities are among the projects.
For more detail, candidates should check below:
Name of the scheme: HRIDAY
Hriday scheme full form: National Heritage City Development And Augmentation Yojana.
Government: Ministry of Housing and Urban Affairs.
Date of launch: 21st January 2015.
Urban planning projects such as HRIDAY, AMRUT, and the Smart City Scheme are crucial topics for the IAS Exam. Details regarding IAS parliament schemes, hriday scheme UPSC, new scheme of Modi can be collected online. Students can learn more with the HRIDAY scheme wiki online.
What is HRIDAY Scheme?


On the 21st of January 2015, the HRIDAY scheme was initiated for the growth of heritage cities. This program aimed to conserve and revitalize India's heritage cities to represent their unique character. It also promotes heritage cities to provide an aesthetically pleasing, open, insightful, and protected atmosphere. The Ministry of Housing and Urban Affairs completes the HRIDAY Urban Development Scheme with quantifiable targets, close to how the Smart City Scheme is being applied on a mission mode.
HRIDAY Scheme Focus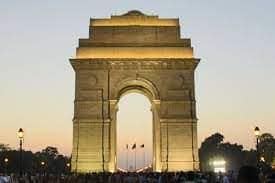 HRIDAY focuses on the Ministry of Housing and Urban Affairs developing critical heritage facilities for areas near heritage sites that the Ministry of Culture has accepted since being identified. The scheme's main focus areas include the development of facilities such as access roads, drainage, footpaths, electrical wiring, landscaping, sanitation, street lights, water supplies, waste management, and allied citizen services such as visitor conveniences, protection, and so on.
HRIDAY reached its fourth year in January 2019 and has a fund outlay of Rs.685758 crore. The actual budget for the project was Rs 500 crore. Projects worth approximately Rs 422 crore have been authorized, with projects worth Rs 140.14 crores completed.
HRIDAY Scheme Cities List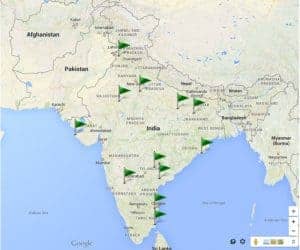 Twelve cities have been listed for development under the scheme: hriday scheme cities list include Ajmer, Amritsar, Amaravati, Badami, Dwarka, Gaya, Kanchipuram, Mathura, Puri, Varanasi Velankanni, and Warangal.
Statement of HRIDAY Scheme
Encourage an aesthetically pleasing, open, insightful, and safe atmosphere to preserve and revitalize the heritage city's soul to represent the city's distinctive character. To carry out strategic and organized creation of heritage cities to improve the overall quality of life, emphasizing sanitation, protection, tourism, heritage revitalization, and livelihoods while preserving the city's cultural identity.
Indicative Components of the HRIDAY Scheme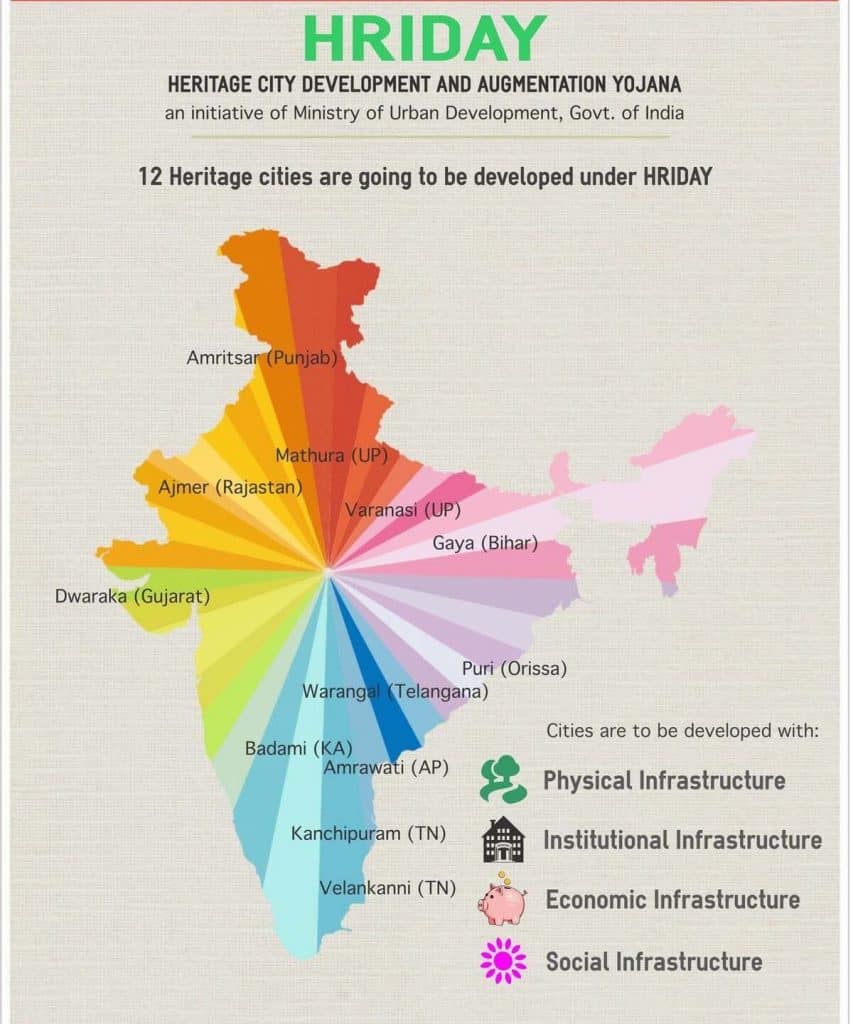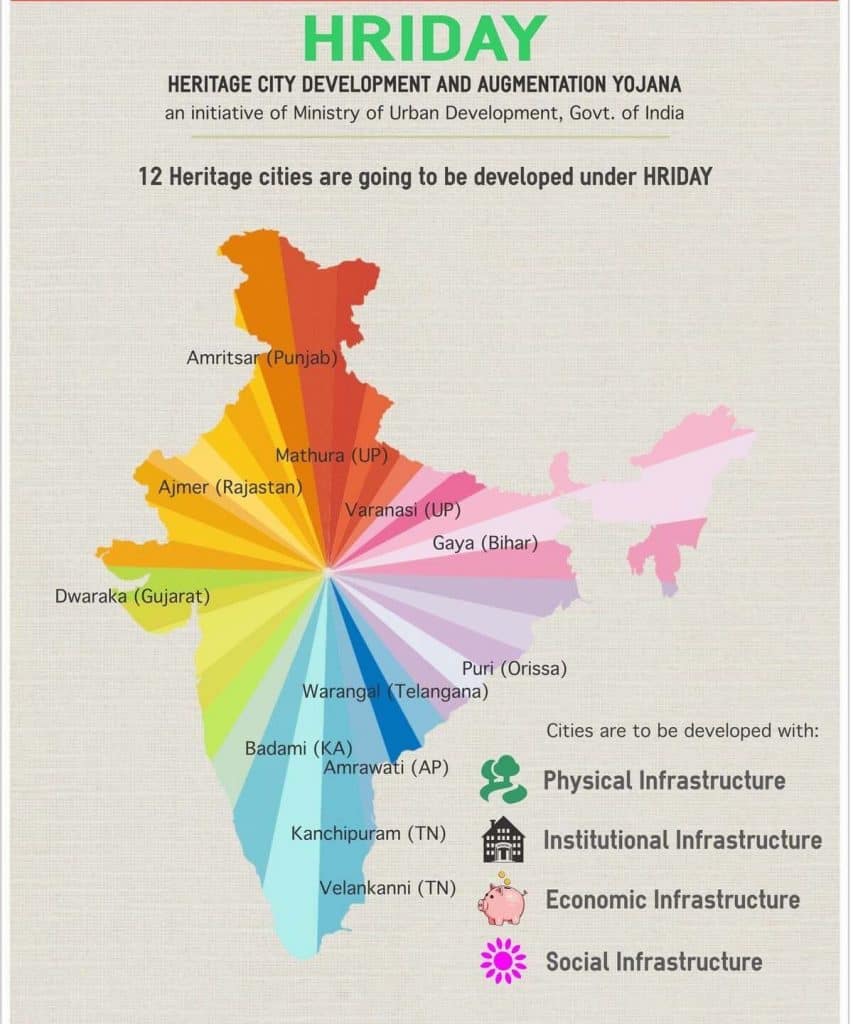 To revive and revitalize the spirit of heritage cities, the HRIDAY Scheme is founded on four elements.
Physical Infrastructure
Institutional Infrastructure
Economic Infrastructure
Social Infrastructure
HRIDAY Scheme: Funding of the Projects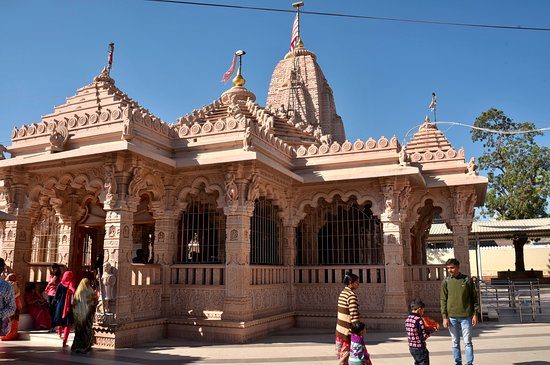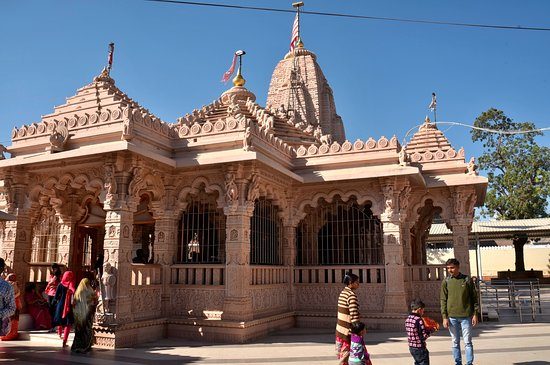 The Central Government has wholly funded the HRIDAY Plan. The MoUD distributes funds that the government has approved to the implementing agencies.
The phases of the MoUD's fund release are described below:
The first installment of 20% is due until the project is approved.
The second installment of 60% is due after the project has made 20% physical and financial progress.
The third installment of 20% is expected after the project has made 60% physical and financial progress.
HRIDAY Scheme Objectives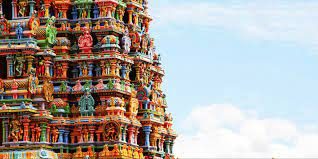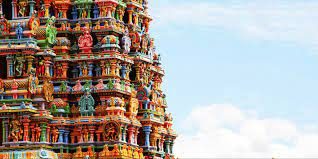 The official HRIDAY Scheme statement outlines the following quantifiable priorities for heritage city development:
Planning, constructing and integrating infrastructure, including service delivery and infrastructure construction in historic city core areas, while keeping heritage sensitivities in mind.
Preserve and renovate heritage so that visitors can interact with the unique essence of each heritage city.
Create a city-wide heritage asset registry that documents constructed, cultural, living, and natural heritage as a foundation for urban development, development, service planning, and delivery.
Enhancement of social services emphasizes sanitation, such as public toilets and water faucets, protection, such as street lights, and tourist facilities.
Create links between cultural facilities and tourism and heritage restoration and capacity building for heritage-based local industries.
Adaptive preservation of urban heritage, including retrofitting existing structures with new conveniences using suitable technologies. This goal also includes the creation of public-private partnerships for the conservation and maintenance of heritage structures.
Promotion of industrial ventures to increase job opportunities for people living in and near heritage sites. This involves developing their skills and making public and cultural environments more available to them.
Using modern ICT tools to make cities more informative, and modern surveillance devices such as CCTV to make cities safer.
Establish routes, follow uniform architecture, GIS mapping of historical places, and create a digital archive of the heritage, among other things, to improve access to heritage sites.
For UPSC 2023 planning, hriday scheme UPSC, IAS parliament government schemes candidates can keep up with the latest current affairs trends related to urban growth schemes.
HRIDAY Scheme: Expected Outcomes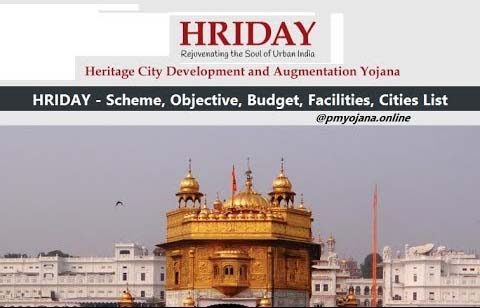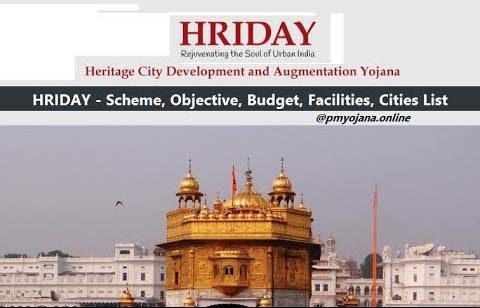 The HRIDAY scheme was created with concrete goals in mind. A few of them are mentioned below:
To have a clean and sanitary atmosphere with improved sanitization standards that also provide the residents' and visitors' protection and convenience.
To enhance urban connectivity by providing at least minimal services at existing and new tourism attractions.
Heritage sites and museums must be preserved and revitalized.
And see a more significant number of locals participate in promoting tourism and the employment opportunities that come with it.
To enhance or encourage tourism by offering exceptional service, which would increase the number of visitors staying for more extended periods of time.
To ensure civic stability and reduce violence in tourism destinations.
To boost the local economy and residents' overall quality of living.
Conclusion
Here I tried to explain the objectives, details, and expected outcomes of the HRIDAY scheme. All the essential information can get recovered from the hriday scheme wiki. The article holds details regarding hriday scheme cities list, ias parliament government schemes.
I hope this article was helpful. I tried to cover almost all HRIDAY Scheme points. If you have any queries or suggestions, kindly write to us in the comment section.
FAQs
What is the HRIDAY Scheme?
HRIDAY is the Central Government's initiative to modernize its select heritage sites with urban facilities, revival services, and protection to improve tourism and local jobs. 
What is the hriday scheme complete form?
The hriday scheme full form is 'National Heritage City Development and Augmentation Yojana.'
How many cities are chosen under HRIDAY Scheme?
Under the HRIDAY Scheme, the government has chosen 12 cities.
HRIDAY scheme is a joint scheme between center and state?
No, the HRIDAY scheme is not a joint scheme between center and state. It is a wholly center-funded scheme.
What is the span of the HRIDAY Scheme?
The program was designed to run for four years and finished on March 31, 2019.