If the SBI ATM Card is lost or stolen, the account holder must notify it and ensure that the card is blocked as soon as possible. SBI ATM Card block can get done immediately to avoid any fraudulent or illegal transactions on the card, resulting in significant losses. The State Bank of India assures that barring ATM cards is straightforward, quick, and inexpensive. This process allows all SBI account holders to take the required precautions to avoid fraud and misuse of the SBI ATM card. Check out these simple instructions on How to Block the SBI ATM Card? Via net banking, SMS, or customer service.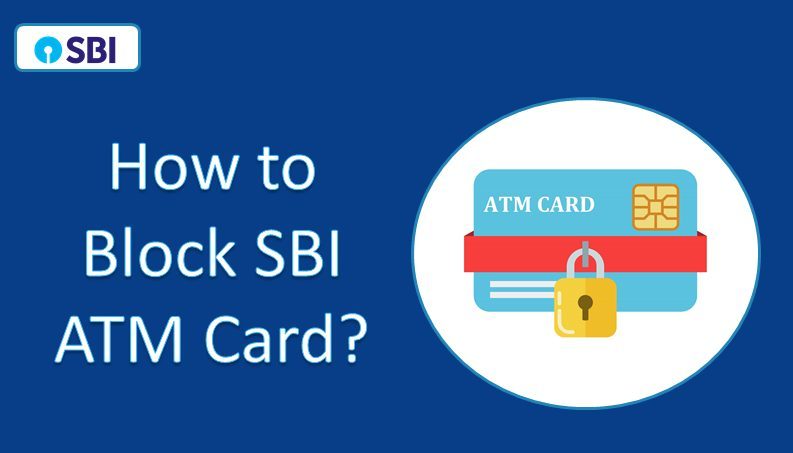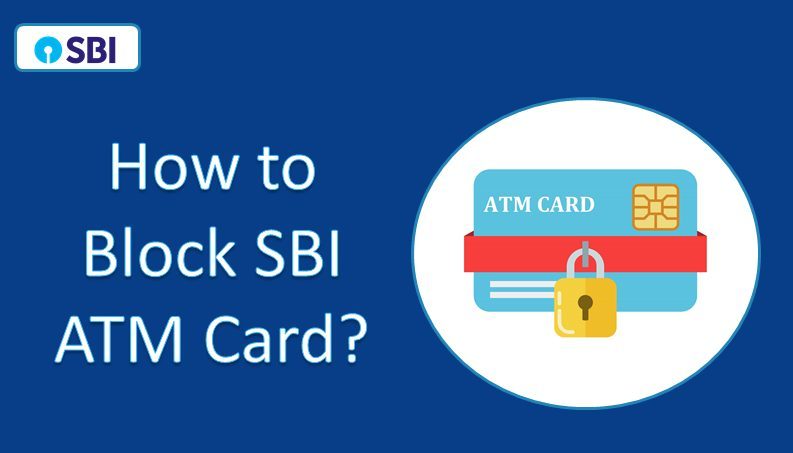 How to Block SBI ATM Card with Net Banking
Using Online SBI / net banking services, the account user can quickly block the SBI ATM card. Thus, a user only needs to follow a few easy steps:
Visit www.onlinesbi.com
Following user needs to Log in to SBI net banking portal by entering the username and password.
Go to the 'e-Services' option.
Click on 'ATM Card Services Option.'
Now Click on the 'Block ATM Card' option.
Select the account associated with the ATM or Debit Card that the account holder intends to block.
The SBI account holder will be able to see a list of all active and blocked cards. The first and last four digits from the ATM card will be displayed in this list.
Verify the details required and confirm.
To authenticate the request, select a mode. The account holder can use an OTP number or the Profile Password.
Enter the OTP or the profile password, whichever is appropriate.
Click on confirm.
Once the SBI ATM cum Debit Card has been banned, the account user will receive an SMS notice with a ticket number. The account holder should note the ticket number in case it is needed in the future.
The account user can also use the SBI net banking portal to check if any ATM cards have been disabled or are inactive. By simply logging into the SBI net banking page, they may check the status of their ATM cards.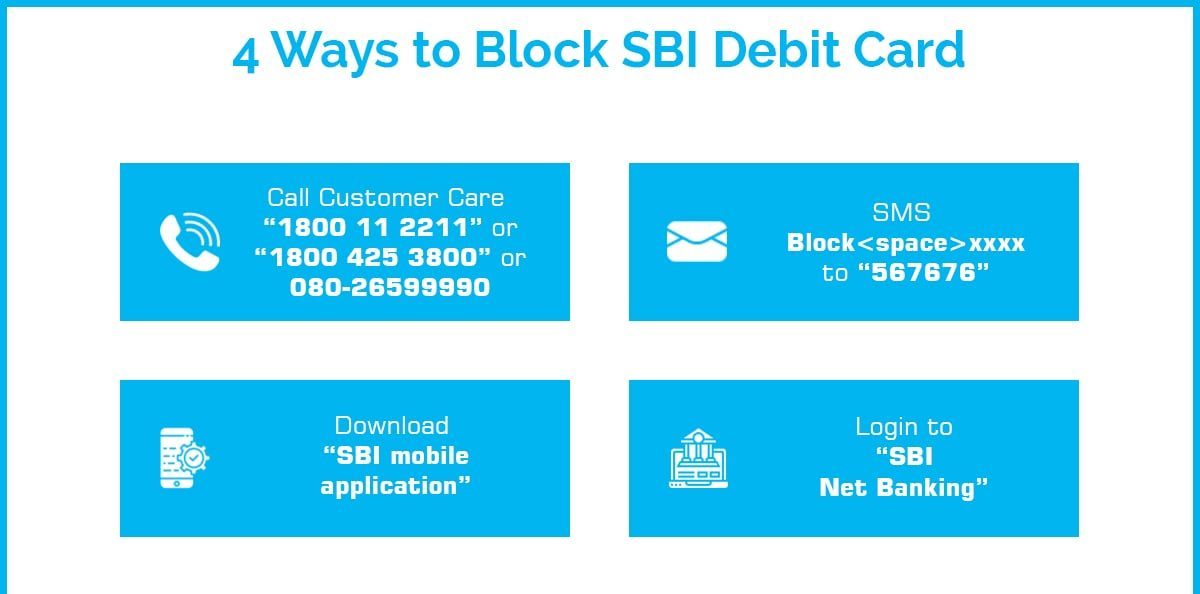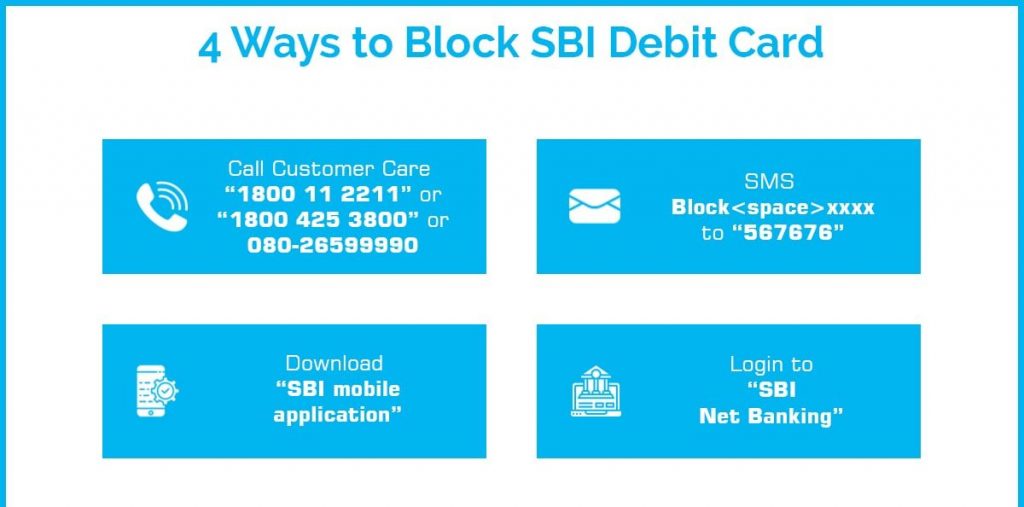 Important note: The account user will not be able to unblock the SBI ATM card using online banking after it has been blocked.
SBI Credit Card blocking: It can be done differently. Dial 1800 180 1290 or SMS BLOCK XXXX to 5676791 to contact SBI Card from your registered mobile number. You can also use SBI Card Netbanking or the SBI Card Mobile App to block your card.
You can also check the detailed process on How To Unblock SBI Debit Card or Close SBI Bank Account Without Vising The Bank?
How to Block SBI ATM Card with Mobile Banking
Following the instructions below, SBI account customers can block their SBI ATM Cards:
On Android or iOS, open the 'SBI Mobile Banking application.
Select the 'Services' option from the SBI mobile banking app's home screen.
Select the 'Debit Card Hotlisting' option under the 'Services' menu to block your SBI ATM card in minutes.
The account holder should pick the debit account linked to the ATM card that needs to block on the next page.
The SBI account holder will be asked to select the debit card they want to ban in the following menu.
The account holder will get prompted to select the reason for the SBI ATM card being blocked in this step. Only the options 'Lost' and 'Stolen' are available to the account holder.


If the account holder does not wish to use their SBI ATM card, they can prevent it from being blocked. In addition, SBI account customers can quickly 'turn off' their ATM card's local and international usage to avoid fraudulent activities. It makes it simple for SBI account customers to protect their cards from unauthorized use. This feature also saves time because the account holder will not have to unlock the card in the future. Instead, the account holder needs to 'Turn on the domestic and international usage options to use the card again.
how to block SBI atm card by phone call
Account-holders can also contact customer service to submit a complaint and have their SBI ATM card blocked immediately. When the account holder notices that the ATM card is missing, they should contact SBI at 18004253800 or 1800112211, and it is a toll-free SBI ATM card block number IVRS option that will guide the account holder on how to block SBI ATM Card. Follow the on-screen instructions to have your ATM card disabled right away.
FAQs
How to block SBI ATM card by SMS?
Send 'BLOCK<space>XXXX' to 567676 from your registered mobile number to block your SBI ATM card by SMS. XXXX depicts the last four digits of your card number. When your request is approved, you will receive an SMS confirmation with the ticket number, blocking date, and time.
How to unblock my SBI debit card?
You can unblock your SBI debit card by writing to the nearest bank branch and filing a formal application. You must also submit your identity proof for your application to be processed.
How to block my SBI ATM card via phone call?
Call SBI's 24-hour toll-free helpline number 1800-11-2211, 1800-425-3800, or landline number 080-26599990 to disable your SBI ATM card via phone banking.
How to get a new SBI ATM card after blocking?
After you've blocked your SBI ATM card, go to SBI's official website and click on the 'Request ATM/Debit Card' button under the 'e-services' page to request a new one.
You will get an OTP on your registered mobile number after that. You can either use this OTP or enter your profile password to confirm your request. T
hen, select your bank account number, fill in all required information, and click the 'Confirm' option
Conclusion
The State Bank of India (SBI), based in Mumbai, Maharashtra, is an Indian multinational public sector bank and financial services statutory entity. The banks provide many valuable financial services to their customers. This article had all the information about How to block SBI ATM cards. For any queries related to SBI bank account or blocking SBI cards, you can connect with SBI Customer service at 1800 425 3800. Still, if you have any concerns, shoot us in the comment section, and we will be glad to respond.