ICICI Bank launched Fastag on May 2nd 2017, which is an RFID-based electronic toll collection system which can be used across all toll plazas in India. The Fastag is a quick, convenient, and cashless way of toll payment. This technology can be used on all national highways throughout the country and across 3,000+ toll plazas. This blog will talk about the different ways in which you can check your ICIC Bank Fastag balance.
What is FASTag?
Thousands of vehicles carry passengers or goods across Indian roads every day. Tolls are charged to all vehicles that use the national highway. Before 2014, Vehicle owners primarily paid tolls in cash. The process of paying tolls by cash used to cause a lot of congestion on national highways, and the length of vehicles queued up one behind the other consumed a lot of commuter time. In 2014, NHAI introduced FASTag, which transformed India's highway toll collection system.
FASTag is a virtual toll payment system that uses Radio Frequency Identification (RFID) to automatically deduct toll fees from the associated prepaid account when a vehicle passes a toll plaza. A FASTag has a 5-year validity period once purchased. Toll plaza staff will read the tag using the scanner when one crosses the FASTag lane and deduct the predetermined fees.
The toll plaza will automatically deduct the toll from the vehicle owner's FASTag account. Vehicle owners must paste the RFID sticker on the vehicle's windshield, where the scanner can scan it at the toll plaza. Cashless toll collection has helped to reduce the endless queues at toll plazas with this new-age solution. By using FASTag at the toll plazas across the country, commuters also saved a lot of time.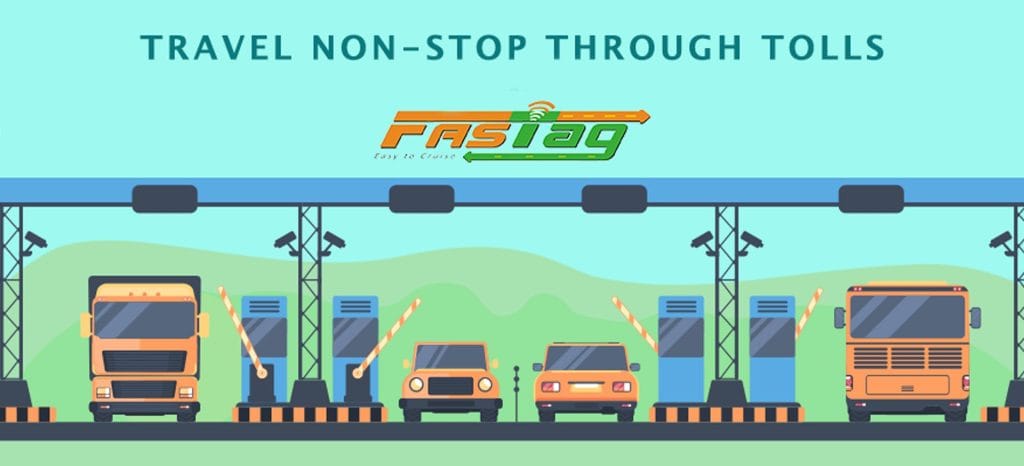 FASTag truly lives up to its tagline, 'Easy to Cruise'. When using FASTag, one can cruise past the endless line of vehicles that wish to pay tolls through traditional means.
The Government of India has made FASTag a required payment method for all private and commercial vehicles. FASTag services are offered by many banks, each with a different method for recharging and viewing the balance.
How to recharge ICICI FASTag balance?
To recharge or top up one's FASTag account, he or she can use both online and offline methods. All recognized banks and FASTag issuing banks have the option of recharging one FASTag wallet online. In the offline method, one can also visit the PoS (Point of Sale) location or bank branches of the issuing banks to recharge their FASTag account.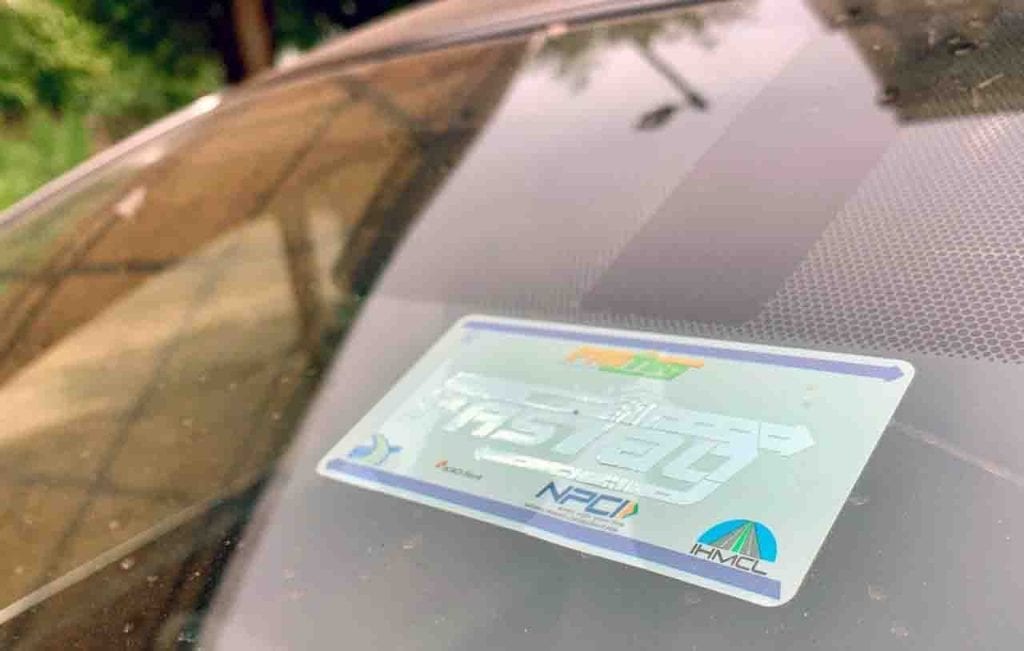 In this article, we will discuss ways in which one can check their ICICI FASTag balance. Here are more details about ICICI Bank accounts and more.
How to check ICICI FASTag balance:
An account holder at the ICICI Bank can check their FASTag balance in various ways, like online, through SMS alerts or notifications, mobile app, and Customer Care helpline number.
How to Check ICICI Fastag Balance
The following steps are to be followed to check the FASTag balance on the ICICI website.
Visit ICICI Bank FASTag Portal
Visit the official website of ICICI bank:
https://fastaglogin.icicibank.com/CUSTLOGIN/Default.aspx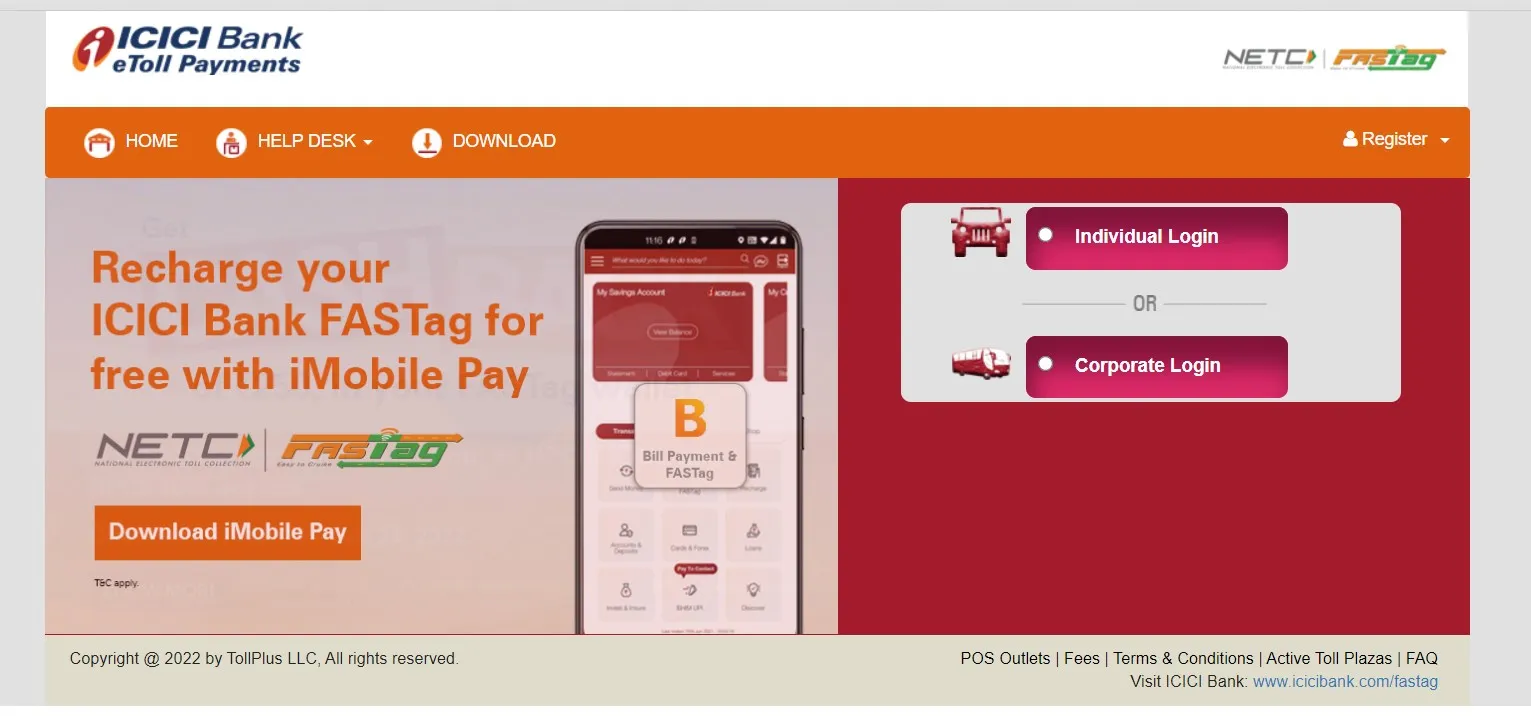 Select Your Account Type-
It will ask you to choose between Individual Login and Corporate Login, Select according to your FASTag type.
Login Into Your ICICI FASTag account
After choosing your account type, move further to the login page and log in to your FASTag account by entering your credentials.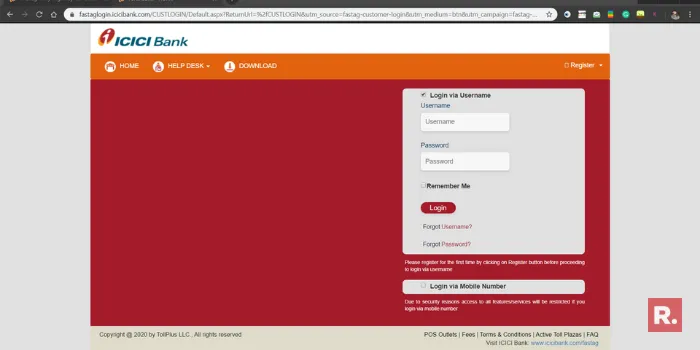 Select your FASTag account you want to check the balance.
After logging into the FASTag portal, you will be able to view all the account details comprising the FASTag balance.
2. Checking one FASTag balance through the mobile application:
Enter your credentials on the eToll app and log in to your account.
Here you can view the amount required for your wallet.
Click on the Tag Account Number to view your FASTag account balance.
3. Checking FASTag balance through SMS:
After one has registered for the FASTag services, they will receive an SMS alert every time the toll fee gets deducted from their FASTag account. Further, one will also be alerted or notified about their FASTag account balance, update on low balance payments of toll amount, and recharge confirmations on their registered mobile number.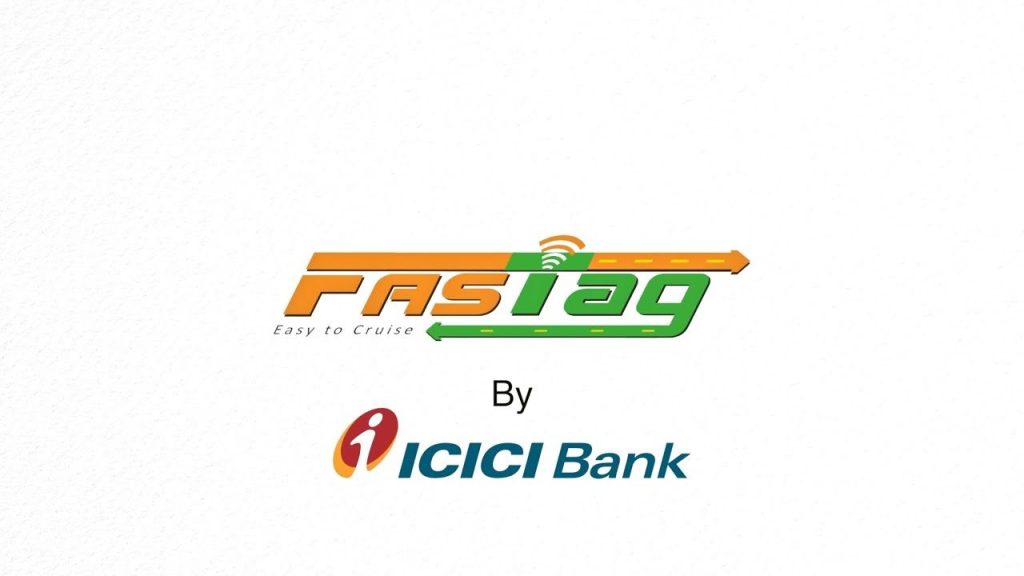 4. How to Check ICICI FASTag balance through missed calls:
One can also check ICICI FASTag balance by simply giving a missed call on the e-toll-free number +91 8884333331. For this to be executed, the mobile number has to be registered with the prepaid wallet of the National Highway Authority of India (NHAI). The numbers to check ICIC FASTag balance are as follows-
| | |
| --- | --- |
| Missed call number: | +91 8884333331 |
| Toll-free number: | 18002100104 |
| Chargeable number: | 18602670104 |
Can we check ICICI FASTag balance by vehicle number?
 On your mobile device, download and install the MyFastag app. Upon installation, log in to the app by entering your username/login id and password. After logging in, it will ask you to enter the registration number of your vehicle. You can now view the FASTag balance linked to that vehicle number online.  
How can I get ICICI FASTag statement?
You can download your ICICI FASTag statements by logging in to your account on the ICICI customer web portal.
Conclusion
The above mentioned were the ways through which one can check their ICICI FASTag Account balance. One can access and check their ICICI FASTag Account balance at their convenience either through the bank's website, SMS alert on the mobile application or through the customer care helpline numbers.