How To Close IndusInd Bank Account Online
Close Indusind Bank Account: It is expected that when someone opens a bank account, they rarely close it, and the account remains open with the bank for an extended period. Nowadays, with most banks working through an online platform, there is rarely a need to shut a bank account in typical circumstances. Here we will see the steps on 'How to close IndusInd Bank account online.'
| | |
| --- | --- |
| Article | IndusInd Bank Account Closing Form |
| Bank | IndusInd Bank |
| Beneficiary | IndusInd Bank Customers |
| Language | English |
| Form PDF Download | Download Here |
There could be various reasons to close a bank Savings Account, including:
Interest rate reduction
Customer Service Is Unsatisfactory
Maintaining a minimum account balance is essential, as is having a lousy relationship with bank staff. 
Having Multiple Bank Accounts
The bank is not giving adequate online services.
Increased Charges for Financial Transactions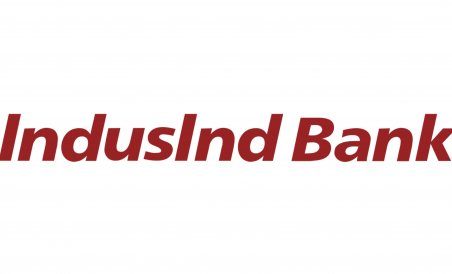 How to close Indusind Bank Account
If you want to close Indusind bank account, you have to follow the steps given:
Fill the IndusInd Account Closure Form of Bank: The first step to close IndusInd bank account is to fill and submit an Account Closure Form. You can download it from the bank's website, or you can go to your branch, grab the account closure form, and fill it correctly. Next, you must sign it and submit it to the IndusInd bank branch manager/officer-in-charge. Keep in mind that if you have a joint account, then joint holder/s, all of them must sign the account cancellation form.
Attach your KYC Documents (Know Your Customer): To the account closure form, all account holders must attach a copy of KYC documents, such as a copy of PAN, which also serves as proof of identity and also a proof of address. Account-holders may be requested to self-attest these documents as well.
Submit Balance Cheque Leaves, Debit Card, and Passbook: You must submit your Balance Cheque Leaves, Passbook, and Debit Card. Only when you surrender all of these documents your account closure application be processed.
Withdraw the Balance Amount from your IndusInd bank Savings Account: The bank official will validate the documentation you submit. After submitting all the documents, you are instructed to withdraw the balance from your account. You can withdraw cash, have the bank issue a cheque/DD in your name, or transfer the money to another account.
Follow the points above, and you will close the IndusInd bank account without any problems. After your account is closed, banks often send an email or SMS to your registered email address and mobile phone.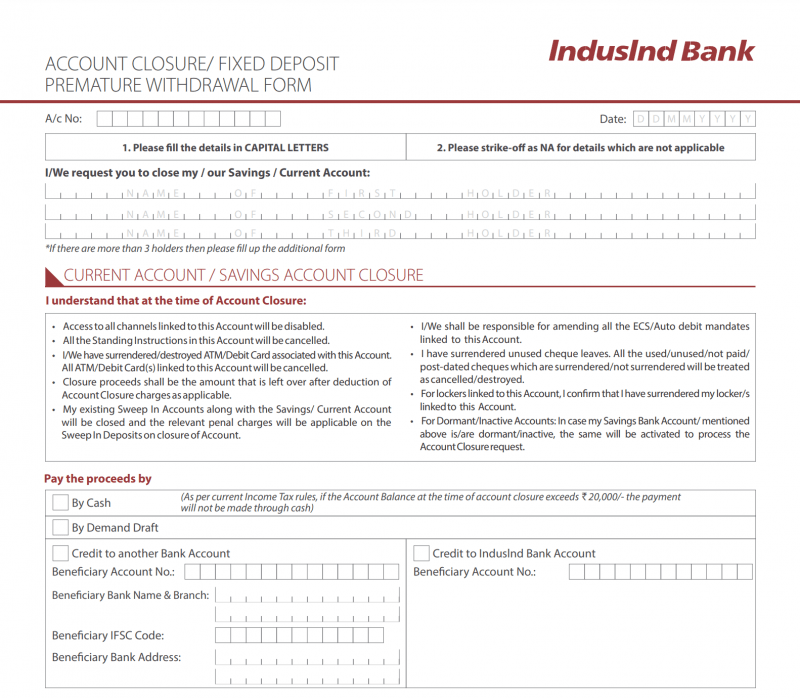 Important Note: While it is not available online to close an IndusInd bank account online, one can download an IndusInd account closure form from the official website or this post, and then you can proceed.
How to Close Indusind Bank Current Account
To close your IndiusInd Current account, you must go to the branch of the bank where you opened it.
Close the account only if you are confident you will not need it in the future, as banks typically do not enable you to re-open a closed account.
A soft copy or a printout of the complete bank statement must be saved for future reference from inception to close.
Cancel your pre-programmed payment instructions.
Before closing an account, the user must pay off any outstanding debts or charges.
Indusind Bank Account Closing Form Pdf Download
Application Format to to Close Indusind Bank Salary Account Online
Below is the application format you can use to close your Application Format to Close Indusind Bank Salary Account Online. Please write your request to close a bank account in the same format and submit it to the respective bank branch manager.
To,
The Branch Manager,
IndusInd Bank (Branch Name)
Pune,
Subject: Request to Close IndusInd Bank Account No.- ____________.
Respected Sir/Madam,
Mr./Miss XYZ, residing at [address], has a bank account with Kotak Mahindra Bank with account number xxx-xxx-xxx-xxx. This application requests to close the account with the account mentioned above number.
I want to close the Indusind bank account as I have created a new account with another bank. I have already transferred all my funds from the old account to the new one, remaining with the minimum balance.
I would acknowledge meeting my request and closing this bank account as soon as possible.
Thanking You
Yours Faithfully,
(Name and Signature with Date)
Account No.- xxx-xxx-xxx-xxx
Note: It will be great if you attach an ATM card or a cheque book, as well.
How to Close Fd in Indusind Bank Online
In this part, we will discuss closing an FD account in the IndusInd bank. In case you want to close FD in IndusInd Bank online, we are going to provide you with some tips which will be useful for sure. Here are the steps to Close Fd in Indusind Bank Online
Visit the Indusind bank and get the FD Account Closure Form or download it online.
Fill in the bank account closure form and submit it to the bank.
You can also get and submit the Fixed Deposit Liquidation Form.
Please include all of your KYC documents with your application form.
Also, submit the FD Certificate/ FD Receipt to the bank.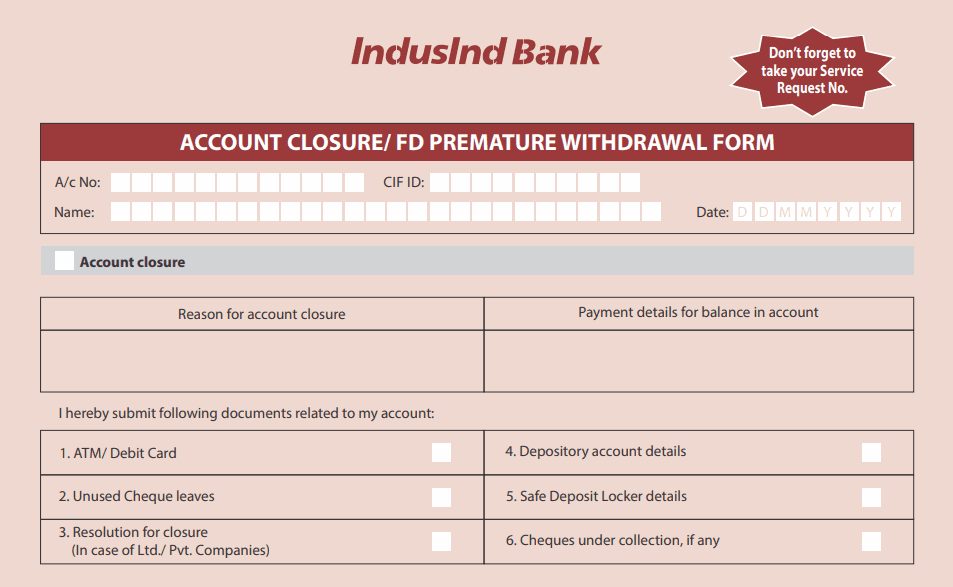 IndusInd Bank Account Closing Charges
If you decide to close your IndusInd Bank account within 14 days of opening or beyond 12 months of opening, no charges will be levied. If the Indusindaccount is closed between 15 days and 12 months of opening, an amount of Rs.200 or balance in the A/c whichever is lower will be levied.
| Time period | Charges |
| --- | --- |
| 14 Days of Account Opening | Nill |
| 15 Days -12 Months of Account Opening. | Rs.200 or balance in the A/c (whichever is lower) |
| 12 Months after Account Opening | Nill |
Indusind Bank Helpline
For further information, call the toll-free number 1860 500 5004 or visit the official website at https://www.indusind.com/.
You can also check more about the Bank Account and details. Click Here
Can We Close Indusind Bank Account Online
Sadly, You can't close the IndusInd Bank Account Online; and However, to close the IndusInd bank account, you don't need to visit a home branch. You can download the account closure form online below and see the nearest IndusInd Bank branch to close your IndusInd Account online.
FAQs
What Is The Maximum Tenure To Open An IndusInd Bank Fixed Deposit?
An IndusInd Bank Fixed Deposit can be opened for a period of up to ten years.
What Is The Minimum Tenure To Open An IndusInd Bank Fixed Deposit Scheme?
For a minimum of 7 days, you can open an IndusInd Bank Fixed Deposit Scheme.
Is There Any Premature Withdrawal Facility For The Indus Tax Saver Deposit Scheme?
No, there is no provision for early withdrawal from the Indus Tax Saver Deposit Scheme.
How To Close A Bank Account Online?
One cannot close the bank account online. You must go to the branch where you started the account. So you must go to your home branch, where you hold an account and request and submit the form to close the account.
What Should Be The IndusInd Bank Minimum Balance?
Indus Privilege Savings Account: A minimum balance of Rs 10,000 is required in the A and B category branches and Rs 5,000 in C and C1 category branches. The penalty for non-balance maintenance ranges from Rs 250 to Rs 350, based on the account's available amount.
Does IndusInd Bank Provide A Zero Balance Account Facility?
The Indus Easy Savings Account is a BSBDA (Basic Savings Bank Deposit Account) that provides the most benefits with the minimum requirements. Enjoy all of your essential banking services with a 'no minimum balance' and a 'full KYC completed.'
Can A NRI Open A Savings Account With IndusInd Bank?
Yes, if you are a non-resident Indian (NRI) who has been in India for more than 180 days, you can create a savings account with IndusInd Bank by presenting a valid passport, visa, and proof of residency in India.
Conclusion
We do not recommend anyone to close a bank account. A bank account helps you in so many ways. So please do not close the Indusind bank account without giving it a second thought. We have provided you with all the necessary details about how to close the Indusind bank account.