Are you looking for a way to close Yes bank account online? If yes, then you are in the correct place. In this post, we will go through all possible ways for a consumer to close a YES Bank account.

Yes Bank used to be a very well-known commercial bank in India, with branches all over the country. YES Bank offers a variety of banking services and products to satisfy the needs of its customers. However, with the current ban by RBI, you might be worried about the safety of your hard-earned money and want to close your yes bank account. Else you might not be satisfied with yes bank's services nowadays, and so you are planning to close the account in yes bank.

If you've finally chosen to close your YES Bank account, you'll need to discover how to close your YES Bank account. So to help you in this situation, we will guide you on how to close yes bank account online in this post.
| | |
| --- | --- |
| Article | YES Bank Account Closing Form |
| Bank | YES Bank |
| Beneficiary | YES Bank Customers |
| Language | English |
| Form PDF Download | Download Here |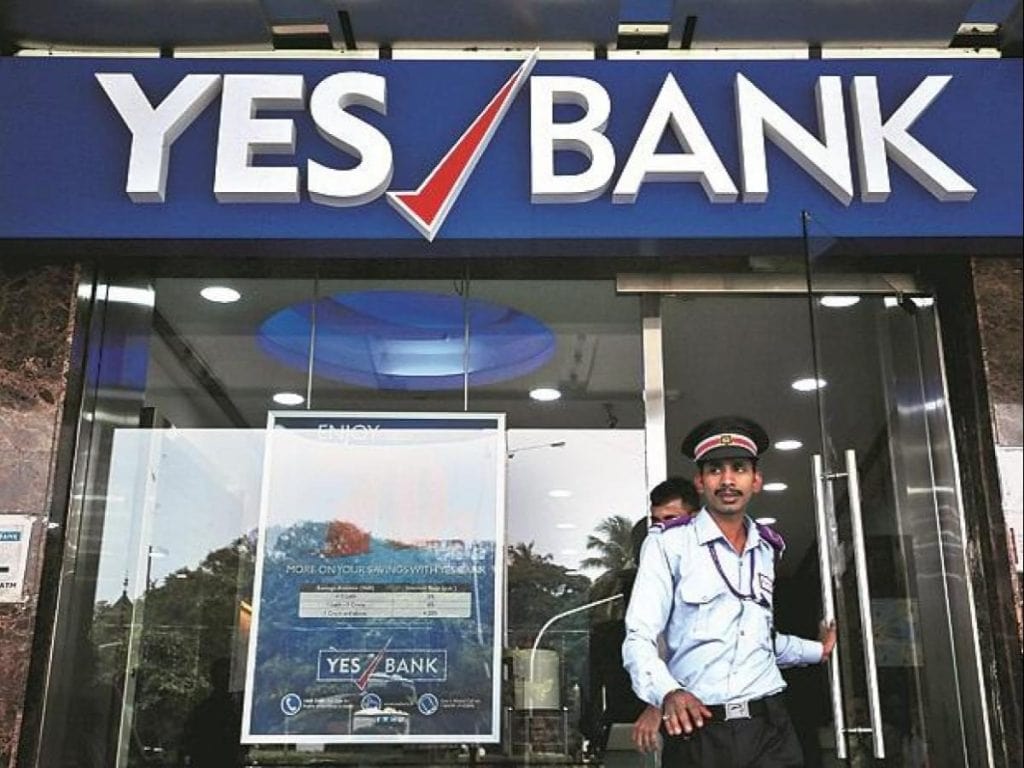 How to close YES Bank account Online ?
Unfortunately, As of now, yes bank doesn't provide any way to close an account online. As a result, you won't be able to close Yes Bank online & you'll have to go to a nearby Yes bank branch to close your yes bank account.

While we understand that there might be much reason you want close you yes bank online. Some of them might be-
Yes bank's Interest rates have gone lower than other competeing banks.
You have moved to new city and yes bank doesn't have a branch there hence you want close yes bank acoount.
Yes Bank's Customer service that isn't up to par.
You aren't able to manitain minumim balance in yes bank & there is negative balance in your yes bank account, hence you want to close it.
No adequate online services provided by the bank becomes the reason to close bank account.
You are having multiple bank accounts & you aren't using the yes bank account.
Yes bank has increased it's Fees & Charges on Financial Transactions unnecessarlyso you want to close yes bank account.
While we understand your reasons for closing the yes bank account online, yes bank officials don't. So there is no way to close an account online with Yes Bank. Therefore, you will not be able to close your Yes Bank account online. Instead, you will need to contact a Yes Bank branch near you.
You can also check 'How To Change Yes Bank Account Mobile Number Online & Offline.'
How to close YES Bank account?
As discussed above, you won't be able to close a yes bank account online, but you will be able to close it by visiting a nearby yes bank branch. The steps to close yes bank in a branch is pretty simple. Just follow the steps below; you should be good to go.
Important Note: You must also return the debit card, chequebook, and any documentation obtained from YES Bank when you opened your account. The bank may request copies of documentation such as proof of identity and proof of address.
Visit the branch and hand over the bank documents and the Account Closure Request form with the copies of the documents attached.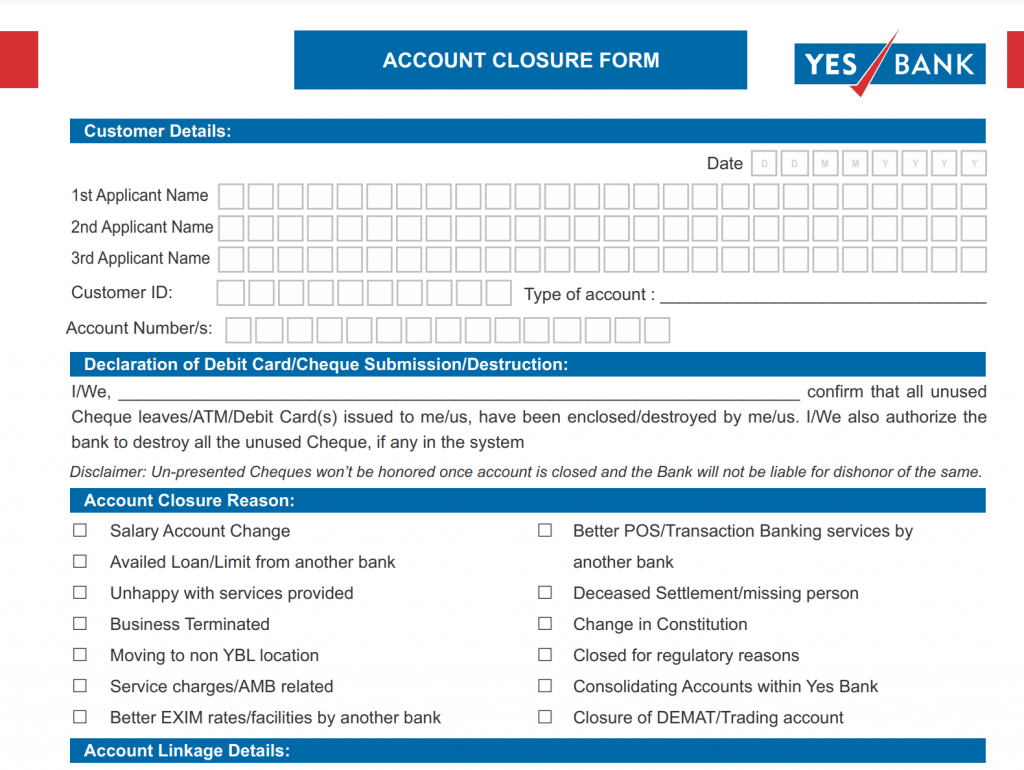 Download the Yes Bank Account Closure Request Form from the official website of YES Bank or visit the nearby Yes Bank branches and collect the form manually.
Now, take print of Yes Bak Account Closure Form PDF that you just downloaded and fill it. Then sign on the requreried places and submit the form near the officer-in-charge. Please keep in mind that if your account has a joint holder/s, all of the joint account holder will have to sign on the Yes Bak Account Closure Form. 
Attach KYC documents copy to the Yes Bank account closure form. PAN Card or Adhaar Card are some of the most commonly accepted KYC doucments during Yes bank account closer.. Account-holders may be requested to self-attest these papers as well.
The ooficer in charge might ask you to your remaining Cheque Leaves, Debit Card, and Passbook to close your yes bank account. Only after you have surrendered all of these items can your yes bank account closure application be processed.
The bank official will verify the documents you submit to close your yes bank account, and will ask you to withdraw the remaining money from your account. You have the option of withdrawing cash, or having the money transferred to another account.
Your request to close yes bank account will take some time to get processed by the bank. The request will be forwarded and handled on the official level. After it has been verified, the remaining balance amount will get deducted from your account according to the option you selected in the form.
Once your yes bank account will be closed successfully, and you will get notified.
What Is Yes Bank Account Closing Charge?
If you close your yes bank account before 30 days of account opening, there won't be any charges. But if you close your yes bank after 30 days, you will be charge 590 rupees as a closing charge.
| | |
| --- | --- |
| Within 30 days | Free |
| After 30 days | Rs. 500+18% GST |
Yes bank Account Closure Charges
Yes Bank Account Closure Form PDF Download
To close the Yes Bank account, use the Yes Bank Account closure Form in PDF format. It's available to download below in pdf format online. You will get the required information and directions for closing an account with Yes Bank in the closure form.
Here is a one-page form format that includes information you'll need to fill in when closing a yes bank account. You can also find directions and details on how to fill it. 
Account closure form necessitates collecting a few crucial details from the customer, including their name, date of birth, bank account number, address, customer ID, etc. After filling in the details, put your signature on the form and submit it via email, fax, or mail it to the nearest YES branch office with all relevant attachments. You can also go to the nearby branch and submit it.
Application Format To Close Yes bank account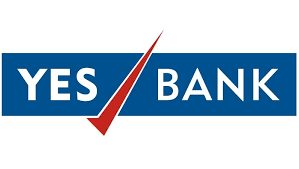 You can also submit an application near the branch manager and ask him/her to close your yes bank account. The application format for closing your bank account is provided below. Then, in the same format, submit your request to close your bank account to the corresponding Yes bank branch official.
To,
The Branch Manager,
Yes Bank (Branch Name)
Bhopal,

Subject: Request to Close Yes Bank Account No.- xxx-xxx-xxx-xxx.

Respected Sir/Madam,

Mr./Miss XYZ, of [address], holds a Yes Bank account with your account number xxx-xxx-xxx-xxx. This application is a request to terminate the bank account using the account number provided above.

I'd like to close my YES bank account because as I opened a new bank account with some other bank. I've also transferred my funds from the old account to the new one, leaving only the bare minimum.

If you can meet my request and close YES bank account as soon as possible, I would appreciate it.

Thanking You
Yours Faithfully,
(Name and Signature with Date)
Account No.- xxx-xxx-xxx-xxx
Our website also has posts about other Bank Accounts, and you can also read about the Indian Government Schemes on our site.
FAQs on How To Close Yes Bank Account
What is the minimum balance in Yes Bank?
The minimum balance requirement is Rs. 10000 (which can be waived by keeping a fixed deposit of at least Rs. 50,000 or a monthly recurring deposit of at least Rs. 5000).
Does Yes Bank Provide a zero balance account?
Yes bank does offer a zero balance account. In that account, you don't have to worry about maintaining a minimum balance or pay a fine for going below the allowable limit. However, You won't earn any interest on the balance you keep in the yes bank zero balance account.
Are there any charges for closing the Yes Bank account?
Yes, there are charges for the closing of the yes bank account. For example, you will be charged 590 rupees if you close your yes bank account 30 days after account opening.
Can I close yes bank account online?
No, the Yes Bank account cannot be closed online. To close the account, you must personally visit the bank's branch. Therefore, I recommend that you go to your local branch where you opened your bank account.
How to open PDF files in Yes Bank?
The password is your Customer ID + your Date of Birth (as entered when you opened your account) numerical format. For example, assume your Customer ID is 1234567, and your date of birth is 1 February 1990. Then, your date of birth will be 01-02-1990 in numerical format.
How to unblock my Yes Bank credit card?
You can unblock your card online by entering it into your net banking account if your bank allows it. In addition, you can unblock your credit card by going to the 'cards' section and selecting it.
How to check my credit limit Yes Bank?
Cardholders can check their available credit limit by using net banking, sending SMS to their registered cellphone number, or phoning customer service. For example, one might go to a nearby YES Bank location to check the available credit limit.
Conclusion
This post is about "How to Close Yes Bank Account online." Here we have explained all you need to know about closing your Yes Bank account. If any doubts, shoot them in the comments section, and we will willingly answer them. You can also contact YES Bank customer service's toll-free number 1800 1200 for more information.