Whether you are working in an organization or a registered company, you must have an EPF account. EPFO provides a 12 digit UAN number known as Universal Account Number. Whether you change your job or company, the UAN number remains the same. In our previous post, we've told about How To Recover Forgot UAN Number Online.
However, some users face problems while login into the EPFO portal. So if you're getting an error saying "UAN Password Not Available" even after entering the correct username and password, follow the below steps to fix UAN Password Not Available Error. It hardly takes a minute or two to get rid of from UAN Password not available error.
Steps To Fix UAN password not Available Error
Now enter your UAN number and click on the Forgot Password tab.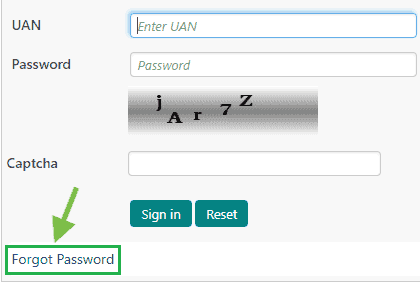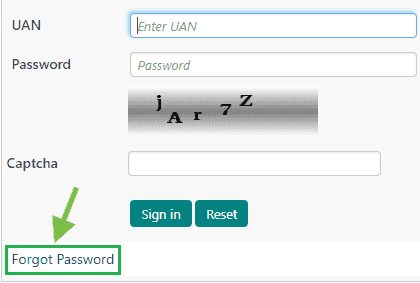 Now enter your UAN number in the given field along with the captcha code and hit on the Submit button.


After entering all the required details you will be redirected to a new page where you will see your UAN number and your registered mobile number's first and last 2 digits.
After that click on the Yes button to get a one-time password (OTP) on your registered mobile number.
After receiving the OTP just enter it in the given field and click on verify button.
Once you successfully verified your number you will be able to change your password with a new password.
Type the New password and enter again the same in the Confirm Password section.
Finally, hit the submit button and you will get a popup saying the password successfully changed.
Now login in your EPFO account by entering your UAN number and the New password which you created in previous steps and click on the login button.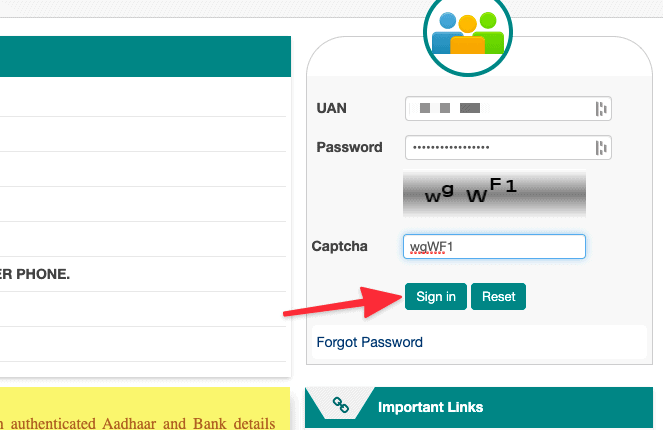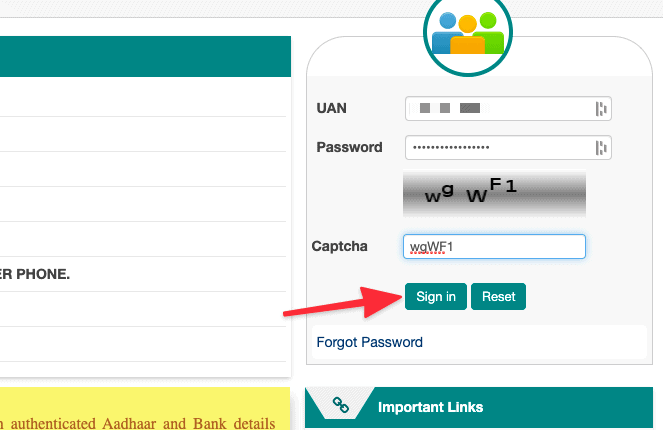 Now you can see that you won't get any UAN Password Not Available Error and you will be able to see all your information in the account.
What is my UAN number and password?
Your UAN number and password are a combination of a unique identification number and a password to identify you as a member of the Employee Provident Fund by govt of India.
These two pieces of information allow you to access EPF services online that you are entitled after retirement from services as part of the company.
Why does my UAN password expire?
1. You haven't changed the password in a long time.
2. You have forgotten your password and don't know how to reset it.
3. The computer has been idle for an extended period, and you have been inactive on the EPF site for an extended period.
4. You may be logging into other systems with the same username or password as your UAN credentials, which will cause the expiration and lockout of any other system where you use those credentials.
How often should I change my UAN password?
The answer to this question is not straightforward. It depends on what you are using your UAN for. If you use it for your email, the answer is once every three months. But if you are using it for something like logging into your bank account, then the answer is once every six months or more, depending on whether or not the site's security settings allow frequent changes.
What happens if I forget my UAN password?
It might seem not very easy to remember your UAN password, but a few tips can help.
Visit the EPF online portal here.
On the homepage, click on 'Forgot Password' on the right side.
On the next page that opens, enter your UAN and Captcha and Click on 'Submit'
Now, enter your UAN once again followed by your registered mobile number and Click on 'Yes'
FAQ On UAN Password not Available
Why Is UAN Showing Invalid?
Your UAN needs to be activated before login. It is showing invalid because you haven't activated it. You can do so by below steps-
1- In the Login Screen of the unified portal, there is a link 'Activate UAN.'
2- Enter all the details like Aadhaar or PAN, Name, DOB, Mobile Number, etc., in the form and submit.
3- You will receive the OTP on your mobile, and after successful verification of OTP, you have to set the password for your UAN. A
4- After this process is complete, you can log in to the portal.
How Can I Log In To My PF Account With A UAN Number?
Step 1: Log in to the EPFO Portal/UAN Member Portal,
Step 2: Click on "For employees," and then click on 'UAN Member e-Sewa Portal."
Step 3: Enter Universal Account Number and password to log in to the portal.
Step 4: Enter the captcha and click on Sign In.
How Can I Check The UAN Activation Status?
1- Go to UAN 
official website
2- Select the link Know Your UAN Status.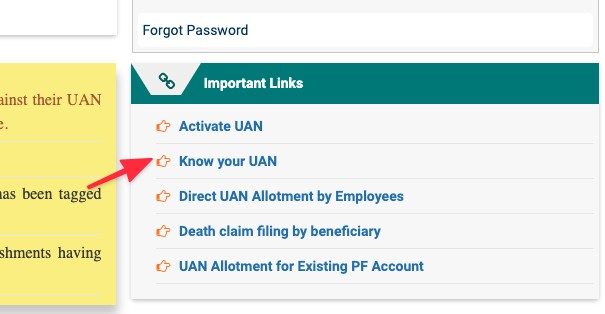 3- Here, you can choose to enter either the Aadhar, PAN, PF number, or Member ID.
4- After entering, you need to fill in your details like name, date of birth, mobile number, and captcha code.
5- Click on the button Get Authorization Pin.
6- You will receive a PIN to your registered mobile number. Enter the PIN received and click on the 'Validate OTP and get UAN' button.
7- Now, the page will display a message that Your UAN number and status will be sent to your registered mobile number.
How Can I Recover My UAN Password?
Go to the EPFO website at UAN:
1) Click on Forgot Password.
2) Enter your UAN number and captcha.
3) The mobile number mapped to your UAN will be shown.
4) Click on Get Authorized Pin.
5) Enter the OTP Pin at entering Authorization Pin.
6) Enter the New Password
7) Confirm the New Password.
8) Click on the Submit button.
Where Can I Find My UAN Password?
Conclusion
So this is the way to get rid of the "Error! UAN Password not Available." error. Usually, you can solve this error by changing your password. So in the future, if you get the same error, change your password, and you're good to go.