Sabarimala Online Darshan Ticket Booking 2022 at Sabarimalaonline.org
2022 Online Sabarimala Darshan Ticket Booking. Easy online Sabarimalai Virtual Q darshan ticket booking with https://sabarimalaonline.org. Look June 28, 2022 Sabarimala Ayyapa Temple Opening Darshan Dates & Sabarimala q online booking 2022.
The Travancore Devaswom Board has announced the launch of an online portal to help pilgrims book and pre-order the necessary services in advance for hassle-free and divine experiences during their pilgrimage to Sabrimala. A valid mobile number and email address are required for Pilgrim registration to access Online Services. Register well in advance to take advantage of the services related to Sabarimala darshan online booking and Prasadams. For the Thulam Month Pooja, the Sabarimala Temple will be opened to devotees of Ayyappa. The Travancore Devaswom Board has allowed a maximum of 250 people per day to see Lord Ayyappa. The Covid-19 Protocol, as announced by the State Government, must be followed by the Devotee.

Sabarimala Q Online booking 2022–2023
We are delighted to inform you that you can book Sabarimala Darshan tickets online from the website. The temple administration has opened Sabarimala Q Online for booking 2022. Now pilgrims can book their virtual Q using the portal as well as the mobile app. The process of booking a virtual Q for Sabarimala darshan is straightforward. In this article, we will guide you on how to book a Sabarimala Q virtual ticket.
How to Book a Sabarimala Q Online
The applicants need to register on the https://sabarimalaonline.org/ website before logging in and booking Sabarimala darshan tickets.
For Sabarimala Virtual Q Darshan Online Tickets 2022, the process has begun from 1st November 2022 to 14th January 2023. Talking about the Mandala Pooja, it starts on 26th December and concludes on 27th December. The Makaravilakku festive season (14th January 2023, and close on 20th January 2023) will again open again on 30th December.
For Sabarimala q online booking, enter all the required details on the website and then click proceed.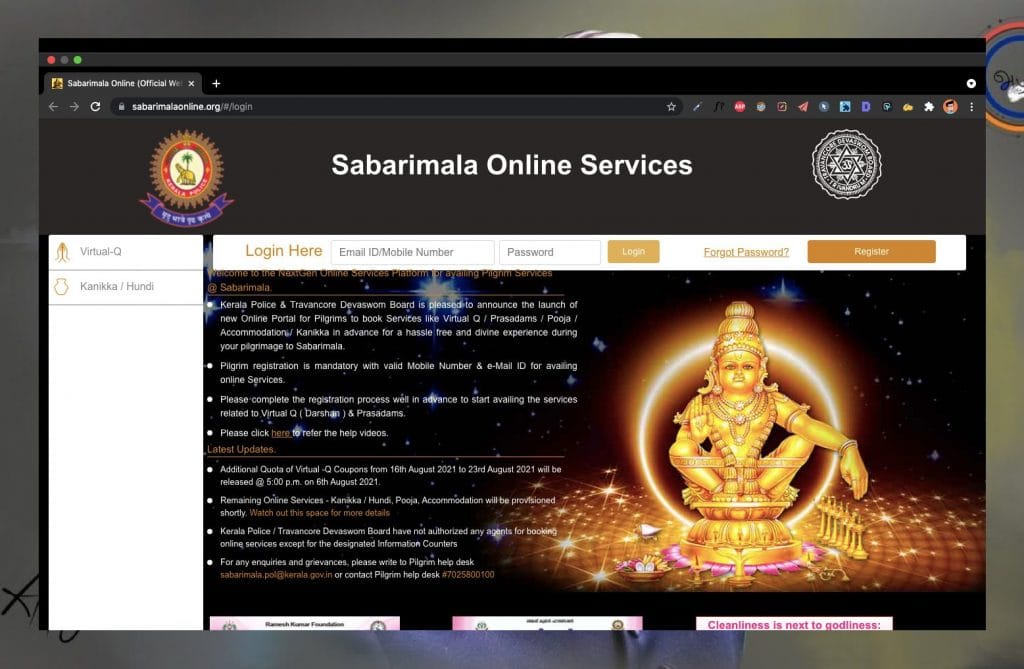 Follow the steps for Sabarimala q online booking:
Visit the official Sabarimala website https://www.sabarimalaonline.org.
Choose the login or registration key from the homepage.
There will be two choices on the page: member login or sign up. Pick one.
Click the 'member login' button if you've already enrolled. Enter your username and password.
To complete the registration process for new members, press the 'sign-up' button and enter all necessary details.
Fill in the first name and last name, email address, mobile number, id proof, and id number.
Next, enter the username, address, and set a password to log in to your account.
Once the process is complete, a new password will get created automatically. From Sabarimala Online Services, a new password and username will be sent to the registered email or mobile number.
A user can now log in to Sabarimala Online Services and book Sabarimala darshan tickets online.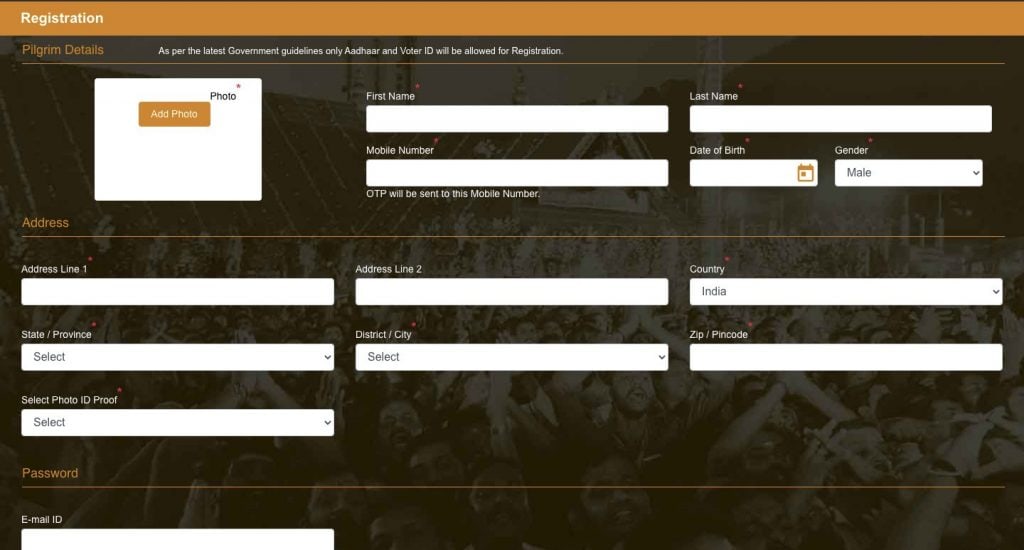 Nowadays, everything is available online. Thus, the government has made the Sabarimala virtual q booking of the temples online. The following steps will help you book tickets. After booking the ticket, you'll receive a time and date. Please all arrive on the same day. Make sure your name and address are on your ticket.
Sabarimala Virtual Q Booking Opening Date 2021 Schedule
| Pooja | Opening Date | Closing Date |
| --- | --- | --- |
| Monthly Pooja– Kumbham | 12/02/2021 at 05:00 PM | 17/02/2021 at 10:00 PM |
| Monthly Pooja – Meenam | 14/03/2021 at 05:00 PM | 19/03/2021 at 10:00 PM |
| Sabarimala Utsavam | 18/03/2021 at 05:00 PM | 28/03/2021 at 10:00 PM |
| Kodiyettu | 19/03/2021 | |
| Pankuni Uthram & Arattu | 28/03/2021 | |
| Meda Vishu Festival | 10/04/2021 at 05:00 PM | 18/04/2021 at 10:00 PM |
| Vishu | 14/04/2021 | |
| Monthly Pooja – Edavam | 14/05/2021 at 05:00 PM | 19/05/2021 at 10:00 PM |
| Idol Installation Pooja | 22/05/2021 at 05:00 PM | 23/05/2021 at 10:00 PM |
| Monthly Pooja – Midhunam | 14/06/2021 at 05:00 PM | 19/06/2021 at 10:00 PM |
| Monthly Pooja – Karkkidakam | 16/07/2021 at 05:00 PM | 21/07/2021 at 10:00 PM |
| Monthly Pooja – Chingam | 16/08/2021 at 05:00 PM | 21/08/2021 at 10:00 PM |
| Onam Pooja | 19/08/2021 at 05:00 PM | 23/08/2021 at 10:00 PM |
| Onam Day | 31/08/2021 | |
| Monthly Pooja – Kanni | 16/09/2021 at 05:00 PM | 21/09/2021 at 10:00 PM |
| Monthly Pooja – Thulam | 16/10/2021 at 05:00 PM | 21/10/2021 at 10:00 PM |
| Sree Chithra Atta Thirunal | 02/11/2021 at 05:00 PM | 03/11/2021 at 10:00 PM |
| Mandala Pooja Maholsavam | 15/11/2021 at 05:00 PM | 26/12/2021 at 10:00 PM |
| Mandala Pooja | 26/12/2021 | |
| Thirunadai Thirappu – Makaravilakku Mahotsavam | 30/12/2021 | |
| Makaravilakku Day | 14/01/2022 | |
ayyappa sabarimala online ticket
The Ayyapa Sabarimala Temple is a well-known temple in Kerala, India. This temple represents the holy Lord Ayyappa's resting spot. Devotees from all over India visit the Ayyapa Sabarimala Temple to offer their worship, allegiance and pray at the holy shrine. Sabarimala is a tranquil location surrounded by the Sabari hills. The beautiful landscape attracts millions of pilgrims, receiving visitors from all corners.
With the Kerala police's support, the state government established a way to take devotees to Sabarimala darshan. Ensuring everyone can visit the temple, the authorities have developed a platform for Sabarimala q online booking www.sabarimalaonline.org. During this situation of the Covid-19 pandemic, managing the crowd and ensuring safety are very important. All devotees have to follow strict rules. Sabarimala Darshan tickets, also known as Sabarimala Virtual Q coupons 2021, can be purchased online.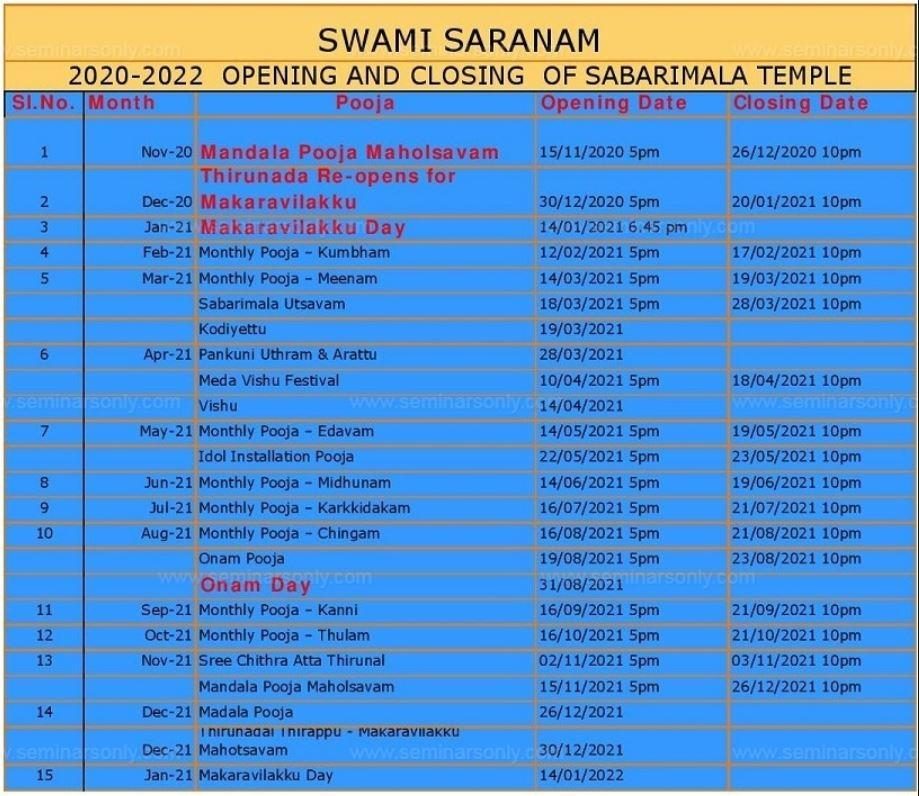 Sabarimala q online booking portal assists devotees in selecting the time and date of their visit. Sabarimala online.org ticket booking process requires a mobile number and email address to log in to your account. The pilgrims will begin their journey from Kannemoola Ganapati on the Pamba. The Mandala Pooja aids in the operation of the Sabarimala's structure, which will remain open until Makaravilakku.
Ayyapa Sabarimala Q Online Booking 2021
Online ticket booking is an easy process which you can do at home. Just make sure you visit the right Sabarimala Q Online booking website https://sabarimalaonline.org.
Online bookings for Sabarimala Virtual Q 2021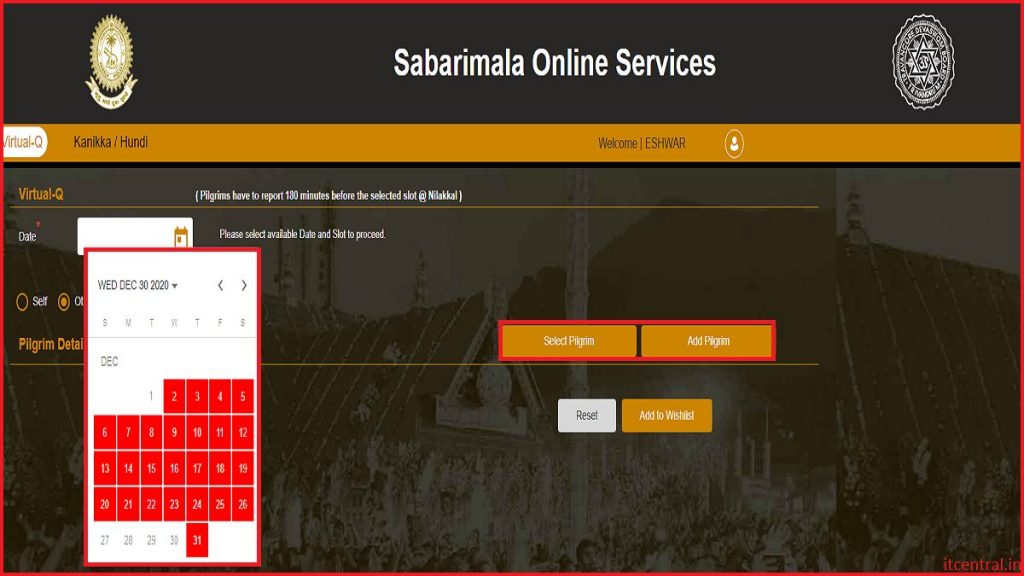 For Ayyappa pilgrims, Sabarimala q online booking 2020, temple doors open from 16th October 2020, till 21st October 2020. The doors were welcoming Ayyappa pilgrims for the Thulam month Pooja, with a limit of 250 devotees per darshan. The state government has set rules for the darshan for social distancing. The state government COVID-19 rules may still follow in 2021.
Sabarimala q online booking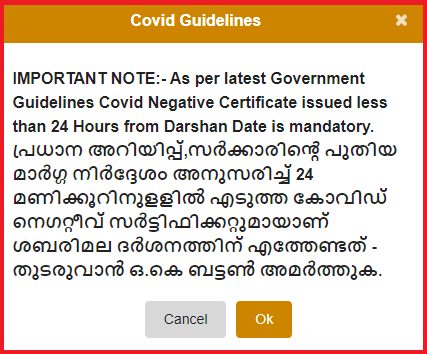 Sabarimala Online Services for the Monthly Pooja of March 2021 will be available starting at 5:00 PM on 10th March 2021
The procedure began for the Virtual Q tickets, Sabarimala q online booking 2020 on 1st November 2020. The Q tickets booking takes place within the first two hours and ends after all slots get filled. Just 1000 pilgrims were permitted during the Mandala Makaravilakku festival (14th November 2020).
For the first time considering the Covid-19 pandemic, the doors opened in 2020. All Ayyappa pilgrims must adhere to the rules, or the constitution would revoke the tickets.
Sabarimala Online Booking Details 2021
| | |
| --- | --- |
| Temple | Sabarimala Temple |
| Location | Pathanamthitta district, Kerala |
| Sabarimala Booking release date | 1st November 2022 |
| Mode of booking | Online |
| Booking Website | https://sabarimalaonline.org |

FAQs
When Sabarimala Virtual Q Will Open?
Booking Sabarimala Virtual Q's opening date is from 14/03/2021 at 05:00 PM to 19/03/2021 at 10:00 PM.
Is Sabarimala Virtual Q Full?
The Darshan of Lord Ayyappa will be limited to a maximum of 250 persons every day. Make a Sabarimalareservation at least a day or two ahead of time for the darshan; otherwise, the Sabarimala virtual Q gets full.
How Can I Check Sabarimala Darshan Tickets Online 2020 2021 Availability?
Visit the official website, sabarimalaonline.org, to see if tickets are still available.
Select the Search Availability button from the homepage.
Select a month and then select the date.
Choose between 'Any time' and 'Specific time' as your preferred time slot.
The green marks on the calendar suggest that the dates are open for booking.
The dates in red show that the slots are already taken.
How Can I Get Sabarimala Prasadam Online?
The Prasadam of Lord Ayyappa Temple in Sabarimala can be bought in person at significant post offices or online via the postal department's website.
Are Sabarimala Open 365 Days?
The Sabarimala temple is only open for pilgrims on the days of Mandalapooja (nearly 15th November to 26th December), Makaravilakku (14th January), and Maha Thirumal Sankranti (14th April), as well as the first five days of each Malayalam month.
Is Mobile Allowed In Sabarimala?
No, cell phones near the sanctum sanctorum of the Lord Ayyappa temple in Sabarimala have been prohibited. Devotees must switch off their cellphones when reaching the 'valliya nadapandal' (covered pathway leading to the holy steps).
Can We Go To Sabarimala If The Wife Is Pregnant?
When your wife is pregnant, you can wear mala. If she is between 9 and 10 months, you must be aware that if she gives birth you should remove mala.
How Many Steps Are There Between Pamba And Sabarimala?
There are 18 steps between Pamba and Sabarimala.
Is Lord Ayyappa Sabarimala Temple Open?
Following strict COVID-19 protocol, the temple opens on Sunday evening for the annual two-month-long Mandala-Makaravillakku season.
Who Is Ayyappan In Sabarimala?
He is Harihara's son, according to Hindu mythology (Mahavishnu in the form of Mohini and Shiva).
How Can I Get Tickets For Sabarimala Darshan?
Before logging in, new applicants must first register on the Sabarimala online.org website. From 1st November 2022to 14th January 2023, the application process open. Bookings are available one week before the desired dates.
Which Is The Last Date To Book Sabarimala Temple Q?
The booking Closing Date for Sabarimala Temple Q is on 14th January 2023.
How Can I Check Sabarimala Darshan Tickets' Online Availability?
Visit the Sabarimala online.org website and log in. Search availability for your dates. The Red and green marking on the calendar shows the booking open and already taken dates respectively.
How Many Days Is Sabarimala Open?
Only the first six days of the Malayalam month, Mandalapuja days, and the festive occasions of Makara Sankranti and Vishu, the temple is open to the public.
Conclusion
Sabarimala Online Services help organize all temple visits and Sabarimala Virtual Q booking online darshan tickets. With the help of online bookings, the visitors are relieved from long queues at Pamba. On the portal, it provides a fixed number of coupons every hour.
It is best to make a darshan reservation in advance, maybe a day or two before the darshan. You can also collect details from www.sabarimalaonline.in.