Are you having an account in SBI and using the internet banking services from the State bank of India & facing "No Accounts Mapped for This Username" errors while logging into net banking? If yes, make sure that you are reading this article from start to end carefully. Here we will talk about one of the most common internet banking service errors in SBI accounts, and we will also tell you some ways to solve this problem.
Internet banking is one of the most revolutionary and much-needed services in the banking industry. Internet banking has enabled access, use, or moderate different banking services from sitting inside your home and anytime. It has made banking thousands of times more easy and convenient. If you have access to internet banking, it saves your time to visit the bank's branch, and you don't have to stand in the queue to get your work done.
But still, there are some flaws in this system too. You may sometimes face issues or errors while using internet banking services with your account. In that case, you don't need to panic when you get the error message on your screen. One of these basic errors that any SBI users face while using internet banking services is "No Accounts Mapped for This Username." Errors like this are most common, and you must want/need to know why you are getting this error.
Cause of "No Accounts Mapped for This Username" In SBI
Most of the users who face the "No Accounts Mapped for This Username" error are the ones who try to access the net banking services after registering for SBI internet banking with the credentials given in the internet banking kit, which the bank provides. When they register, they do not have full access to internet banking.
The account in which the internet banking services are allotted remains by default in the hidden accounts list. And that's why the server is unable to find the account with the provided credentials and throws an error message saying "No Accounts Mapped for This Username." While the account is hidden, you also have restrictions to changes to the account holder's profile. You need to unhide your main account from the hidden accounts list to eliminate this problem. After that, you also need to give full authentication and authorized permissions to make transactions from the account to the account user. After doing so, it will take hardly one hour to get the problem solved, and then you can enjoy your internet banking services.
How To Solve The "No Accounts Mapped for This Username" Error In SBI
To solve no account mapped error while logging into your SBI Netbanking account for the first time, you must follow the steps given below to avoid any possible error.
1. First, open your computer's internet browser and then visit the official net banking website of State Bank of India, which is onlinesbi.com, and log in to your internet banking account using the credentials/ username and Password.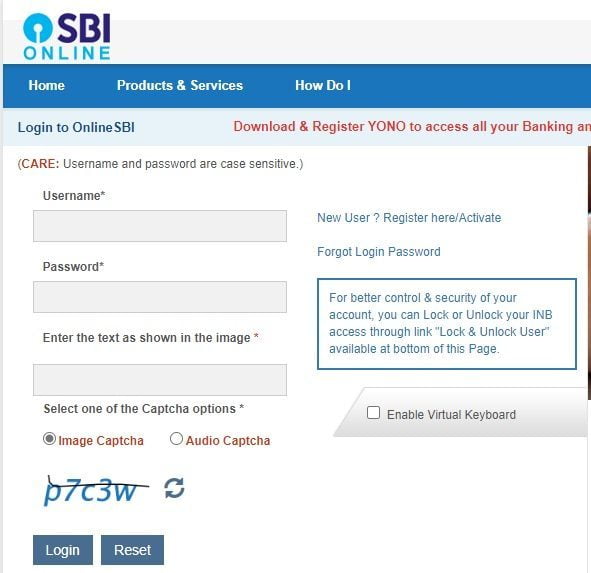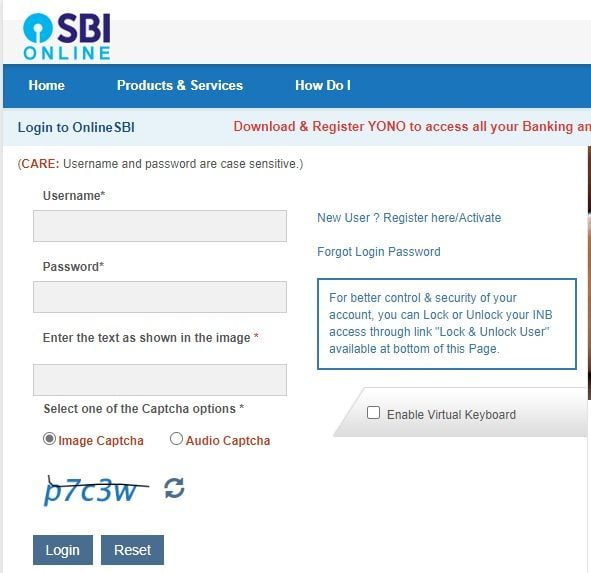 2. After login, you will find the "My Account & Profile" option, click on this option, and then click on the "Profile" option from my accounts section.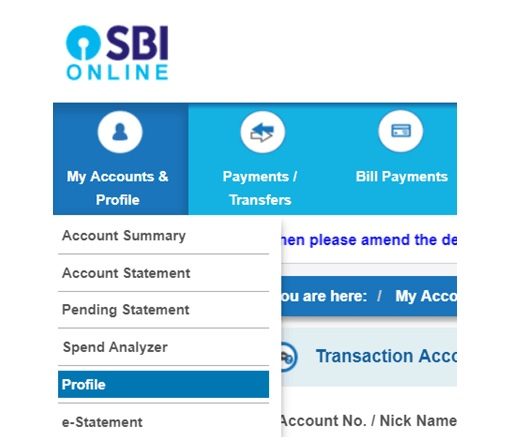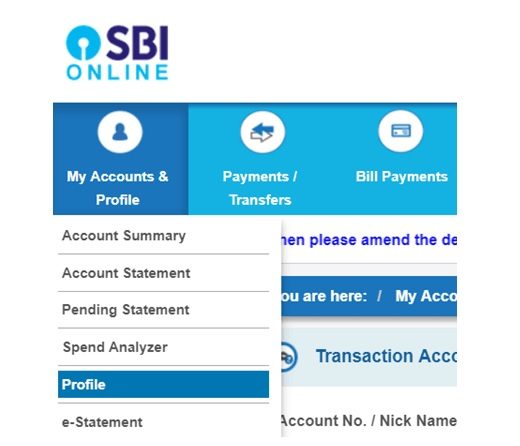 3. Now, you will get several different services and options in the Profile Section, including Personal Details, change password, Set account Nickname, Manage A/c Display, PAN Registration, etc. Click on "Manage A/c Display" from the profile list.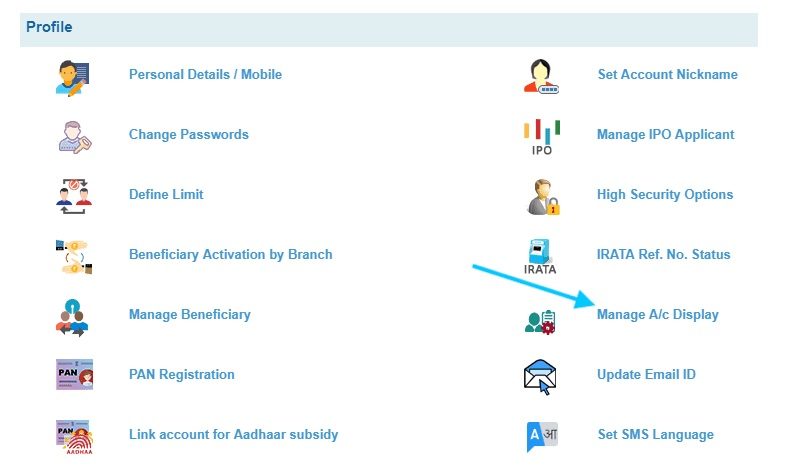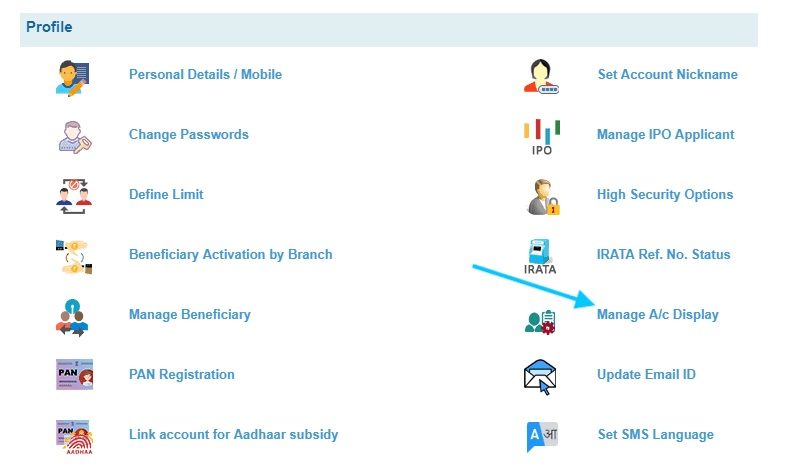 4. Now, hereafter clicking on this option, the screen will display some options, including hiding Accounts, Unhide Account, Hide Debit Accounts, and Unhide Debit Accounts, etc. From the list, click on the "Unhide Accounts" option. It will ask for the profile password; enter the profile password in the given space and then click on the Submit.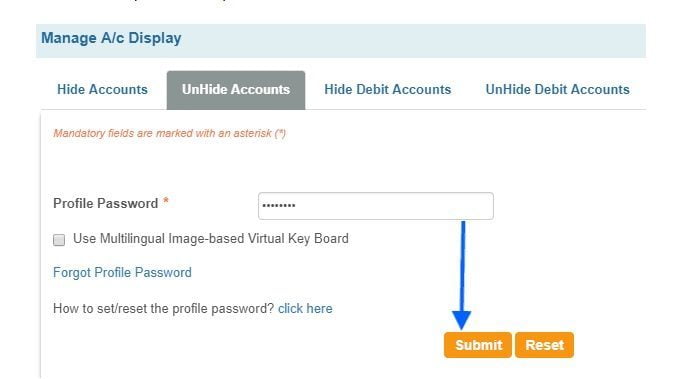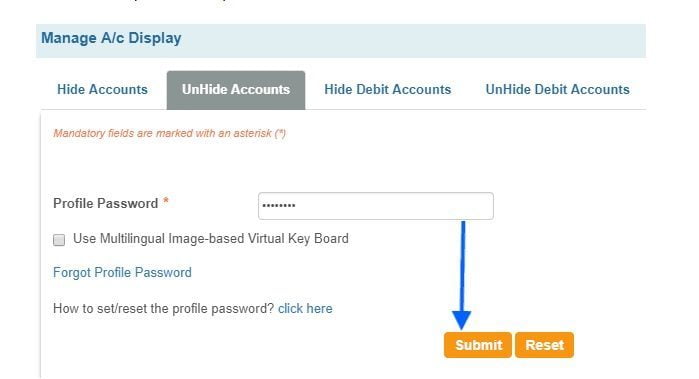 5. The next window will show you a list of bank accounts associated with your internet banking credentials. Now select your Account Number, which you want to use for internet banking, and click on the Submit.


6. After submitting, you will get a message saying, "You have successfully modified your account profile for inquiry and transaction access to the following accounts." 
Video Guide to Solve "No accounts mapped for this username" error
Other Possible Reason For "No accounts mapped for this username" error
1. First of all, login to the internet banking website,e of SBI which is https://www.onlinesbi.com, sign your login id and password. Then from the main menu click on the "Request & Inquiries Ta,b" from the menu bar, and here look for the "Upgrade Acces,s Level," When you find this button, click on it.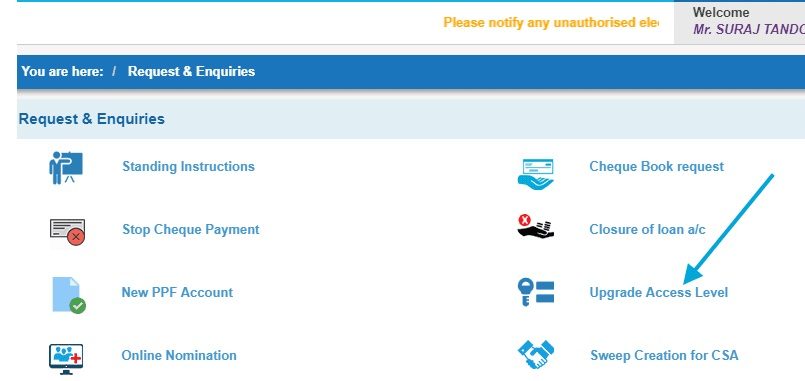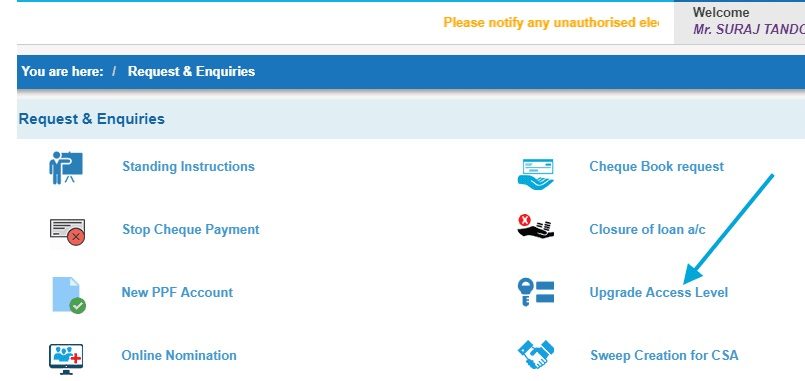 2. Here you will see a list of account numbers associated with your user account. Select your desired account number from the list and then click on the "Full Transaction Rights" button which you will get under the Upgrade, Access level Section. After doing so, click on Submit.

3, After submitting you will get an OTP on your registered mobile number. Enter OTP and click on the ConEnter


4. Now you will receive a message saying "Y,,our request for up-gradation of rights for the account selected by you is accepted, and it may take 1 Hour to activate the same in our records"
5. The services will be activated w.ithin 1 hour after the request is made. After this, you will not get such type of error again in the future.
How Do I Fix No Accounts Mapped For This Username?
You can fix no account mapped for this username by adding your bank account to the net banking user ID & the steps for it written above.
How Can I Link My SBI Account Online?
You can link your SBI account online by following these steps.
Step 1: Visit the SBI website, www.onlinesbi.com, and login into your account.
Step 2: Under the 'My Accounts & Profile' tab, click on the 'Profile' option.
Step 3: Under the 'Profile' section, click on the 'PAN registration' option.
Step 4: A new webpage will appear on your screen
A mapped account means the number of accounts attached to your net banking user id. Mapped accounts allow you to map two accounts to one user ID and switch from one account to another very easily and in one step, without having to log out and log in again
What Is Mapping In Banking?
Mapping in banking means adding two or more bank account to a single user ID.
Conclusion
So that's all about the error "No Accounts Mapped for This Username" in SBI. If you want to know anything else regarding this issue, let us know in the comments below. Do share your feedback with us, if you liked this article. Your feedback is important.