UAN Login, Generate UAN and Check UAN Status – UAN Registration & Activation | epfo uan activation & epf uan login | know your uan & uan registration | know your uan status & uan number activation uan member portal.
Since the whole process relating to Employee Provident Fund (EPF) facilities is now run online, the UAN (Universal Account Number) process is also associated with the Employee Provident Fund (EPF) services. (epfo uan activation). Employees can do the uan registration and then get all the required details.
With the assistance of UAN registration, you can easily access your PF account number services such as withdrawals, uan registration, applying for a PF loan, and checking EPF balance without the help of your employer. This article guides you into everything you need to know about your UAN and uan registration. We'll discuss more concerning (i) how to get uan number? (ii) how to activate uan? (iii) how to find uan number? (iv) pf account number, EPF member portal, uan registration, and more.
Universal Account Number or UAN (UAN number activation)
Any employee who adds to the EPF is given a 12-digit universal account number called UAN (Universal Account Number). The Employee Provident Fund Organisation (EPFO) creates and distributes it. The Universal Account Number is authenticated by the Ministry of Labour and Employment of the Government of India. An employee's Universal Account Number remains the same throughout his or her career, regardless of how many jobs they hold.
EPFO (Employee Provident Fund Organisation) assigns a new member identification number or EPF Account (ID) to any employee who changes jobs. This number is connected to the UAN. As an employee, you can request a new member ID from your new employer by sending your Universal Account Number.
After the member ID is established, it is connected to the employee's Universal Account Number. As a result, the UAN will serve as a single point of contact with the employee's various Member Ids assigned by multiple employers.
Note: Throughout an employee's career, the UAN remains the same and is compact. When swapping jobs, the individual must use a new member ID. To make EPF changes and withdrawals easier, both of these member IDs are connected to the employee's UAN.
How to know your UAN
Below are the two processes that will help you know your UAN (universal account number) uan registration. Read carefully and follow the instructions:
The process to know UAN through Employer:
According to the EPFO, the boss will usually assign you a Universal Account Number.
The process to know UAN through UAN Portal using PF number or the member ID
If you cannot get your Universal Account Number from the employer after uan registration, you can also receive it via the UAN portal. You must take the following steps:
Visit the UAN Portal link https://unifiedportal-mem.epfindia.gov.in/memberinterface/.
Click on the tab 'Know your UAN Status.
Choose your state and EPFO office from the dropdown menu, then enter your PF number/member ID and other information, including your name, date of birth, phone number, and captcha code. You can see your PF number/member ID on your payslip. Go to the 'Get Authorization Pin' page..'
An OTP PIN will now be sent to your phone number. Click the 'Validate OTP and get UAN' button after entering the PIN.
Now the system will send the (UAN) Universal Account Number to your mobile number.
Note: If you get an error message that says "UAN Password Not Available" despite entering the correct username and password, then Click Here
Activate and login to the EPFO website using UAN
You'll need your Universal Account Number and PF member ID to unlock UAN. The measures to access UAN on the EPFO portal are as follows:
Visit the EPFO homepage and select 'For Employees' from the dashboard under 'Our Services.'
In the services section, choose the option 'Member UAN/Online services.' You will now get guided to the UAN portal.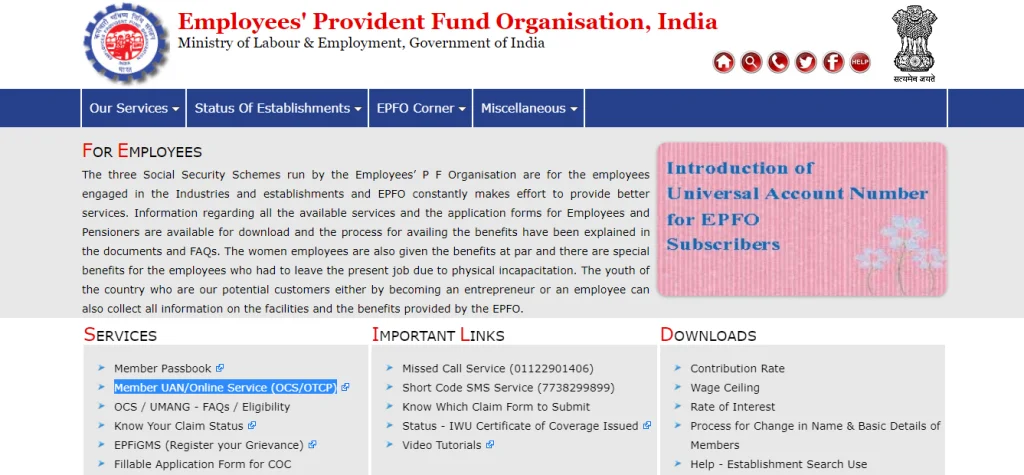 Your UAN, mobile number, and PF member ID must all be entered. The user must enter captcha characters to obtain an authorization PIN. Click the 'Get authorization PIN' button, and the system will send the PIN to your registered cell phone number.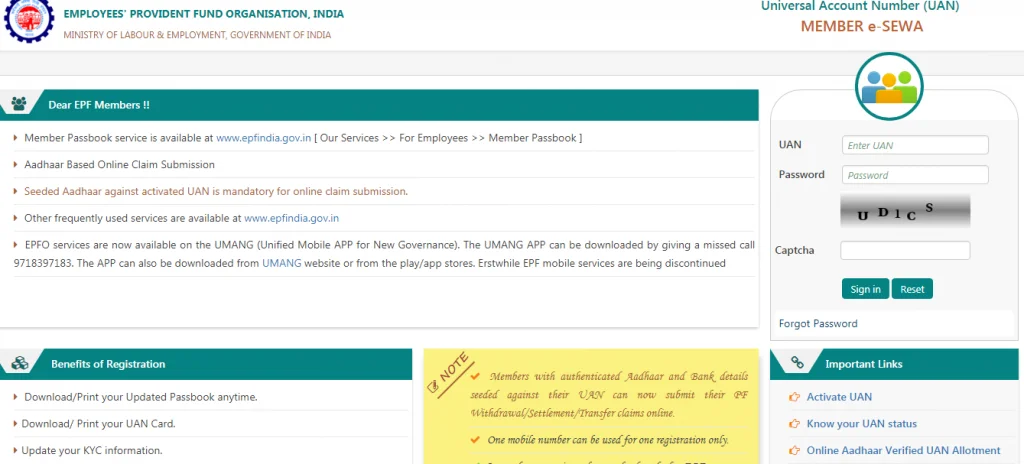 Under the disclaimer checkbox, click on 'I Agree,' then enter the OTP you received on your phone number and click on 'Validate OTP and Activate UAN.'
Features & benefits of UAN
The UAN aids in the centralization of employee data throughout the region.
One of the most critical applications of this unique number is that it relieves the EPF organization of job authentication by businesses and employers.
EPFO collected the member's bank account data and KYC without the employers' assistance.
EPFO may use it to track an employee's career changes.
With the implementation of UAN, the number of untimely and early EPF withdrawals has decreased significantly.
Advantages of UAN to employees
Any new PF account associated with a new job would be consolidated into a single unified account. Here are other advantages of UAN to employees are listed:
This makes it easier to remove (fully or partially) PF online.
Employees may use this unique account number (UAN) to move their PF balance from one account to another.
You can get a PF statement at any time (for visa purposes, loan protection, and so on) by logging in with your member ID or UAN or sending an SMS.
New employers will not need to verify your profile if the UAN number is already Aadhaar and KYC-verified.
Employers cannot access or withdraw their workers' PF funds because of UAN.
It is simpler for workers to ensure that their employer contributes to their PF account regularly.
Documents required to open UAN
You'll need the following documentation to get your Unique Account Number if you've just started working with the first registered business/company. Here are other documents required to open UAN are listed:
Bank account info: Account number, IFSC code, and branch name.
A recent utility bill in the name, a rental/lease agreement, a ration card, or any ID proofs as mentioned above with the current address. (Address Proof)
Any photo-affixed and national identity cards work: such as a driver's license, visa, voter ID, Aadhaar, and SSLC Book, are also acceptable forms of identification. (ID proof)
PAN to be linked with the universal account number (UAN).
Aadhaar is needed, and it must be connected to a bank account and a mobile number.
And the last requirement is an ESIC card.
For you, one UAN number stays constant and cannot be modified after UAN registration. Click here to Recover Forgot UAN Number Online.
Conclusion
Any EPFO member is given a UAN, or Universal Account Number, a specific identification number. The Ministry of Labour and Employment issues it. Over his service time, a member may only have one UAN connected to all of his EPF accounts. The EPF account number and member ID change as an individual switches jobs, but the UAN remains the same. If a member receives two UANs, he can immediately notify his supervisor and EPFO so that the old UAN can be deactivated and the previous EPF corpus can be moved to the current PF account.
I hope this article was helpful. I tried to cover almost all details: uan member portal, epfo uan activation, how to get uan number, pf account number, etc. Any queries or suggestions, kindly write to us in the comment section.
FAQs
Why is the need to activate UAN?
Individuals must unlock or register their Universal Account Number (UAN) to use the Employees' Provident Fund Organisation (EPFO) portal's numerous services. You can get more info about the uan member portal online.
How to do Epfo login?
First, the employer must go to https://unifiedportal-emp.epfindia.gov.in/epfo/#, the EPFO employer login page (epf member portal). The employer must then type his or her username and password and press 'Sign Up.'
Who allots universal account number?
The EPFO assigns UAN (universal account number) when an individual joins the Employee Provident Fund Organisation (EPFO).
Can an employee have two universal account numbers?
No, an employee cannot have a universal account number. An employee is only allowed to have one UAN. This unique UAN is transferable to all qualified employers.
UAN is mandatory for online claims?
Yes, UAN is mandatory for online claims. Without UAN, you cannot submit online claims.
Employee UAN is linked with the PAN?
Yes, the UAN is linked with the PAN of the employee.
Employers withhold EPF balance if changing jobs?
No, since the balance in EPF accounts is attached to the UAN, which is transferable across all eligible employees, this is impossible.
What are EPF eligibility criteria?
If a salaried employee with a monthly Basic + Dearness Allowance of less than Rs. 15,000, your employer is required to open an EPF account for you.
Can an individual open an EPF account?
Employees of firms registered under the EPF Act are the only ones who can invest in the EPF or PF. Per month, both the employer and the employee must pay 12% of the employee's base wage and dearness payment to the EPF account.
What if UAN is not activated?
"It's not likely, since the new UAN can't be accessed before the old one is closed," the official said when asked if the EPF balance available for the old organization could be passed to the new one. As a result, the member must remove funds from old PF account and close his or her UAN."
What is UAN in salary slip?
UAN operates based on a single account per subscriber. Essentially, the UAN serves as a centralized id number for all of your PF accounts. You will find the UAN on your payslip if you don't know it yet. On the payslip, the participant employee's UAN number is usually listed.
What happens if an employee doesn't have UAN number?
If you do not have your UAN, you should use the old way of submitting a physical application and withdrawing your PF funds. Download the Aadhaar-based new composite claim form or the non-Aadhaar composite claim form to submit the physical document.
What if an employee has 2 UAN numbers at the same time?
It is against the rules to have two functioning UANs at the same time. All of a member's EPF accounts should be connected to a single UAN.
What if I forget the password for the EPFO login?
If you've forgotten your EPFO login password, you can recover it by following the steps below: Go to the EPFO/UAN member e-Sewa Portal and choose the 'Forgot Password' option.
Can I activate UAN via offline modes?
UAN registration is required to use EPFO's online services. As a result, UAN registration is only done online.
Suppose Aadhaar is not linked with UAN. Can I transfer funds online?
If the Aadhaar is not connected to your UAN, you will be unable to move funds or request a withdrawal. Aadhaar must be seeded with a universal account number (UAN). You can follow the UAN registration process and complete all the steps.
Is there any fee for UAN registration?
No, one doesn't have to pay a fee to register for a UAN, and you do not have to pay a fee to unlock it.
Can I activate UAN through SMS or mobile app?
There is no way to unlock your UAN using SMS or a smartphone app. You can only access it online via the EPF member site after UAN registration.