Are you looking for your State Bank of India CIF number? I can help you find your CIF number if you're looking for it. Customers and account holders generally look for this CIF number to activate internet banking in SBI. In addition, a CIF number is required when you transfer your bank account from one State Bank of India branch to another. I will tell you about two methods by following which you can find the SBI CIF number. One of the methods is cif number on cheque book sbi, and the other method is how to get cif number of sbi without a passbook. I have mentioned both the methods below; you can use either of them.
CIF is the most important term in banking activities. CIF is a file that stores all the demographic information about the account holder. Every CIF file has a unique CIF number. SBI is the leading Bank in the Indian banking sector, with over 24000 branches only in India and 190 offices in 35 other countries. The CIF code is also known as the Customer Information File Number. If you don't know, what is CIF Number? You are trying to find out the SBI CIF number in SBI without a passbook; this article is just for you. We will discuss what the CIF number is in SBI & how you can find out your SBI CIF number by SMS, Online Banking, or Yono App.
What is CIF Number?
CIF Number stands For Customer Information File Number.CIF number is an 11 digit number issued by SBI and CBI Bank When anyone opens an account in their Bank.
Bank creates a Customer Information File (CIF) Number, which contains all the information about that customer, such as Personal Information, Address Proof, Account Number, Transaction History, Loan Details, and everything about him in a digital format. There are 11 digits in CIF Number, and It is unique to each of its customers,
How to Get CIF Number in SBI Without Passbook?
Generally, the CIF Number is printed on the first page and the opening page of the Passbook, which the Bank provides. However, sometimes, the CIF number is not on your Passbook, or maybe you don't have a Passbook, or you want to know your CIF number without a passbook, then you can get it by using the following methods.
Get SBI CIF number using net-banking
This method is applicable when you have access to your net banking. You have to follow these steps to get your CIF number from net-banking-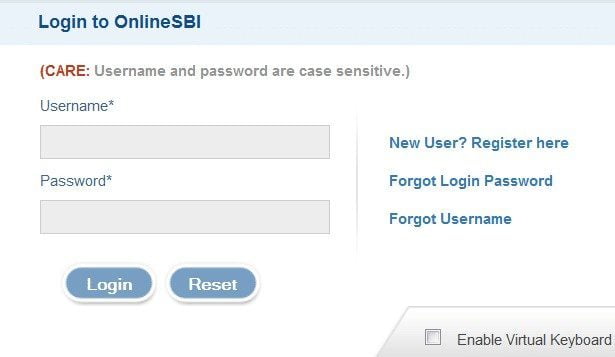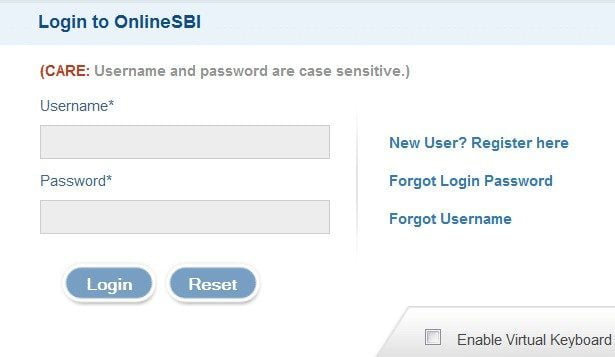 After login, click on "My Account tab and profile" Tab and then open "account summary".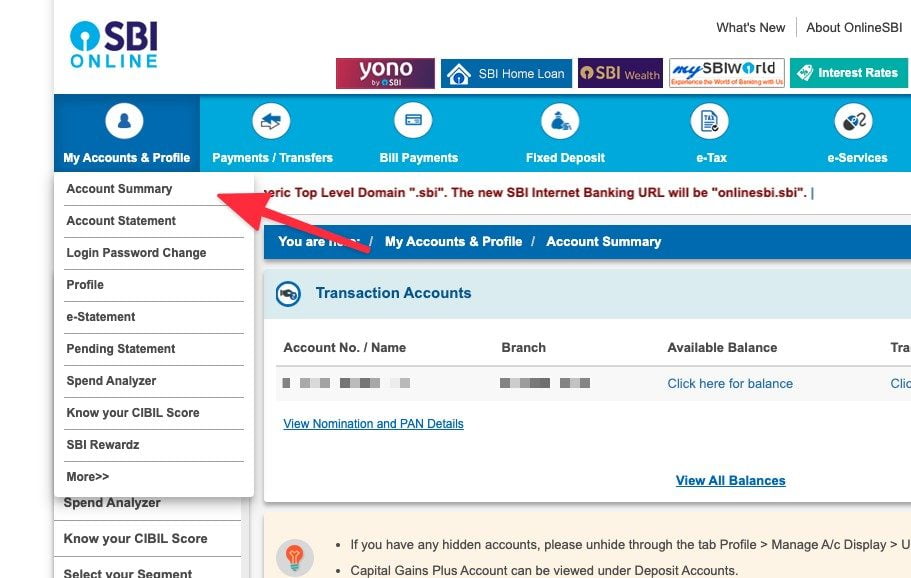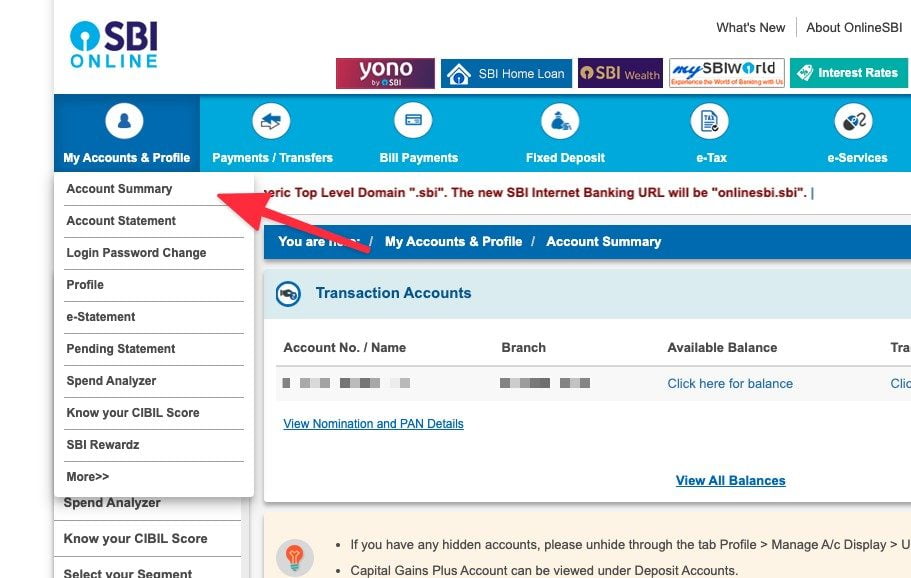 Then click on the Nomination and PAN details option.


Select View Nomination and PAN details.
CIF number will be displayed on the next page.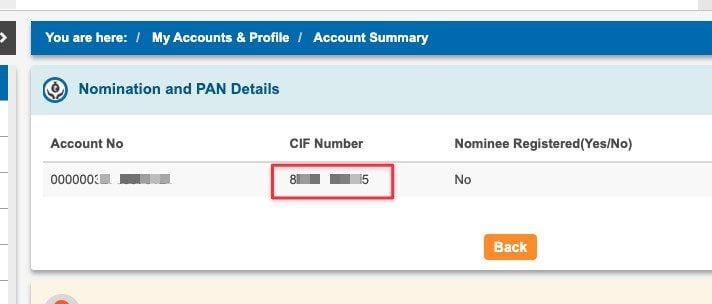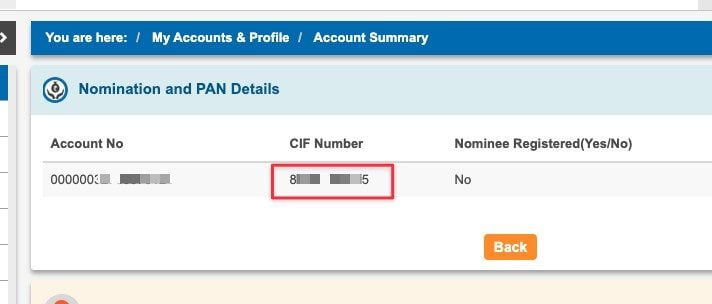 Alternate Method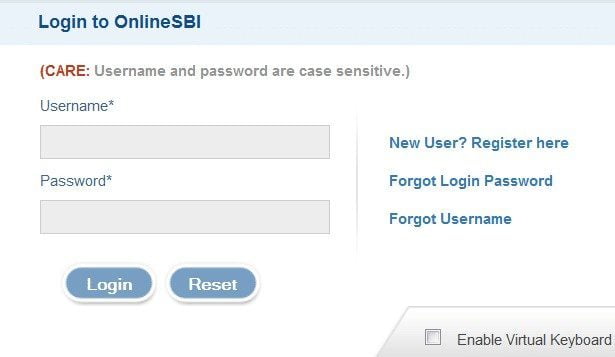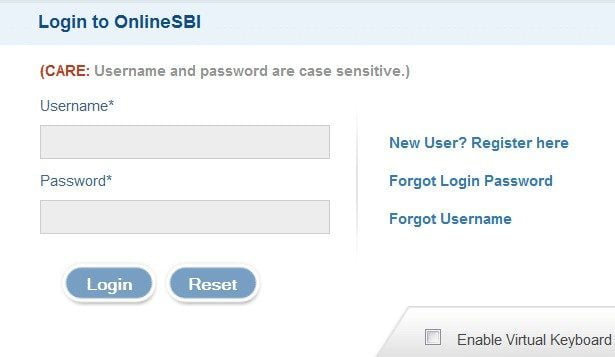 After login, you have to choose the Account Statement option.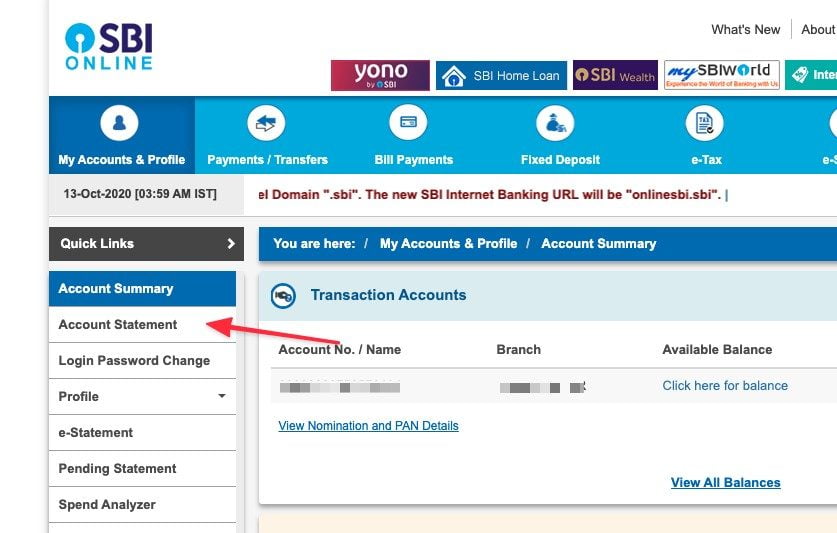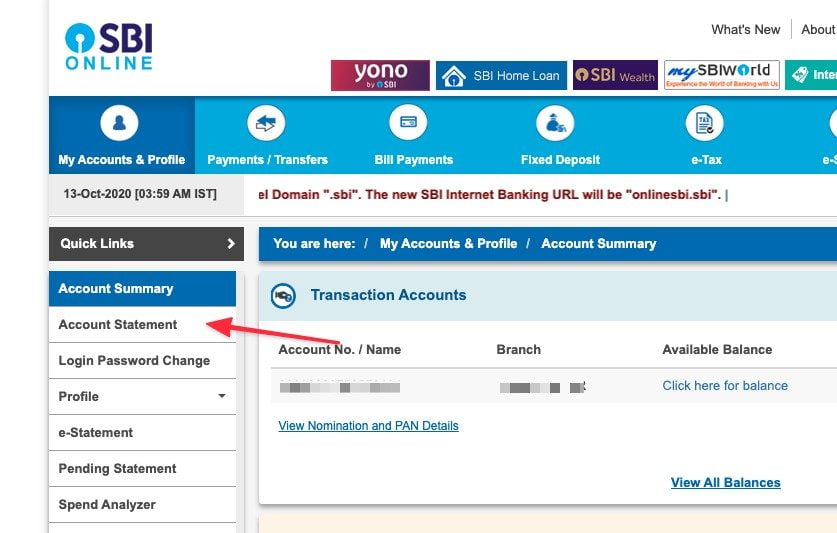 Then select two dates for the statement, select View, and click on the Go option.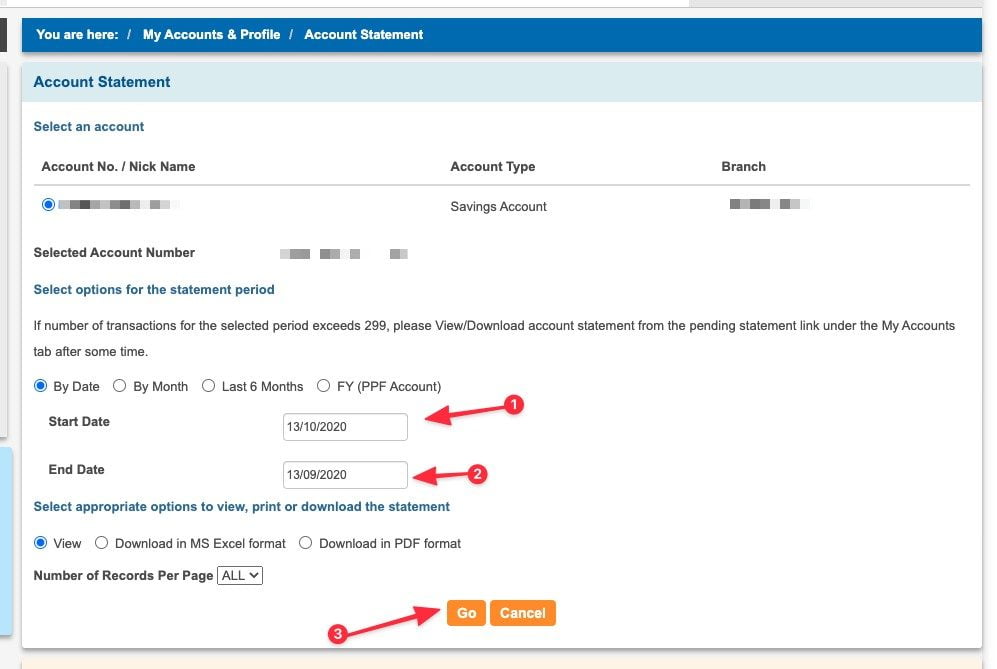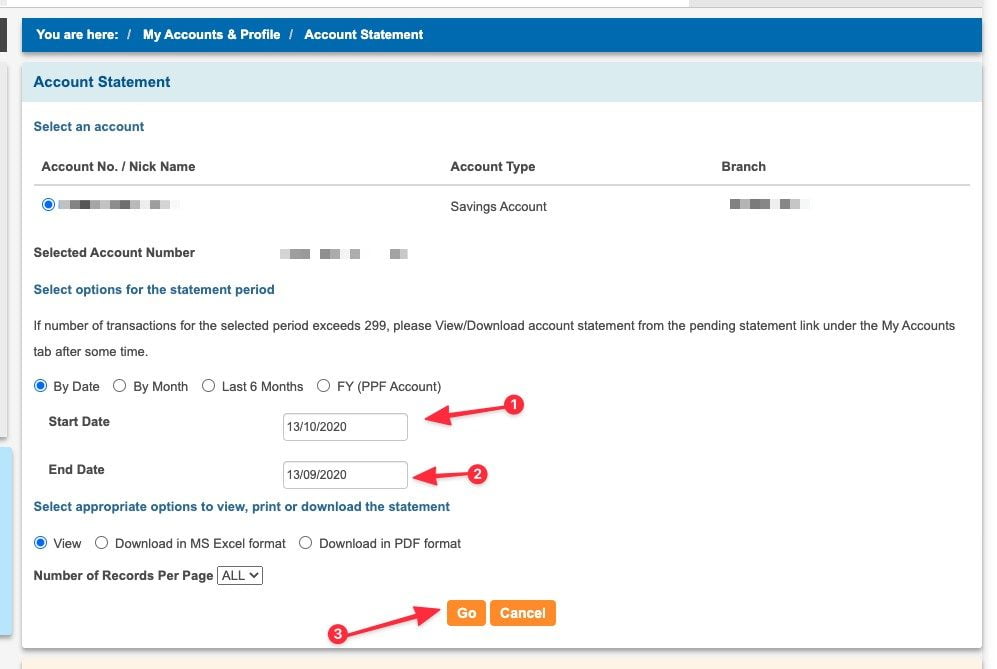 Now your account summary page opens. This page will appear your Account Number, CIF Number, IFSC code, and other information on it.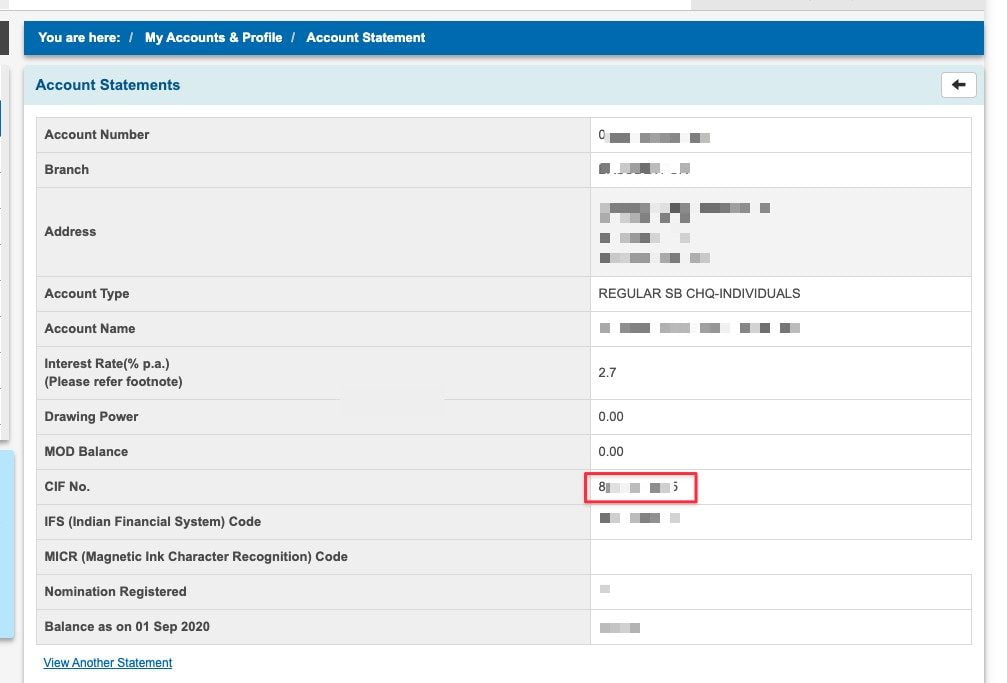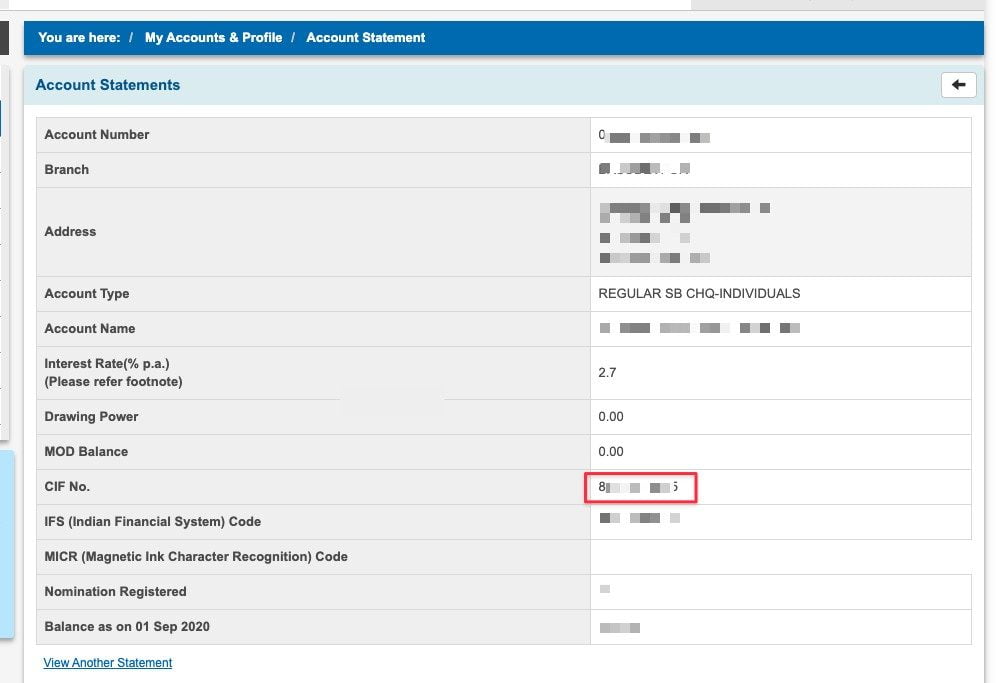 Find the State Bank of India CIF number by using SBI Yonn App
If you are an SBI Yono app user, you can quickly get your state bank of India CIF Number Without Passbook on your mobile. But, first, you have to download the SBI mobile banking application, known as SBI Yono App, and register. If you are already registered, you have to follow the following steps.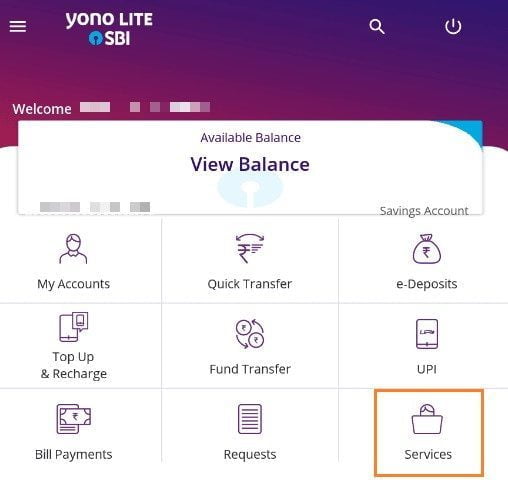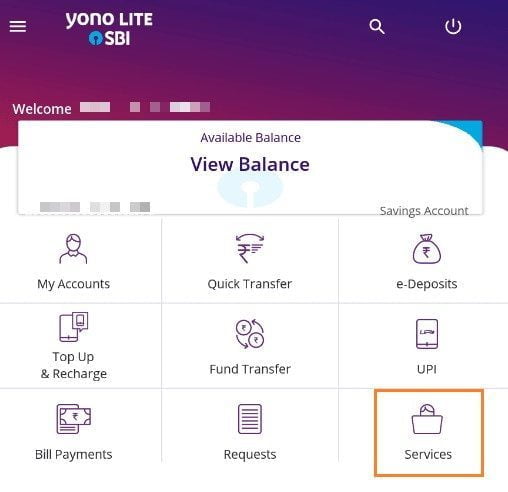 On next screen click on Online Nomination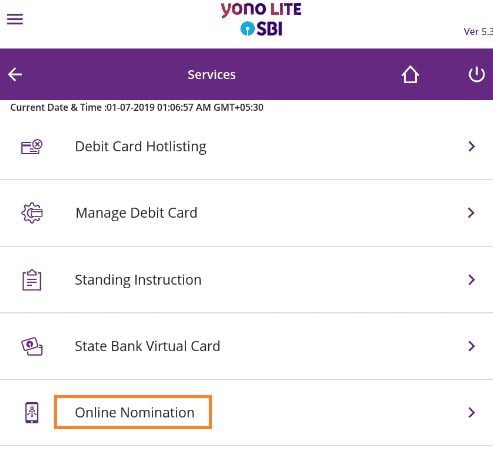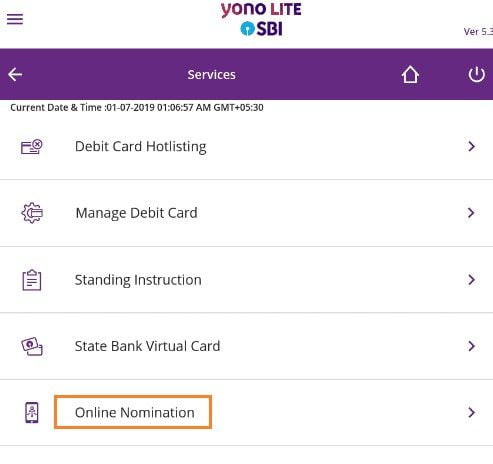 In the next step, select the type of account to "transaction account" and select your account number in the select account field. It will show you the CIF number like the image below.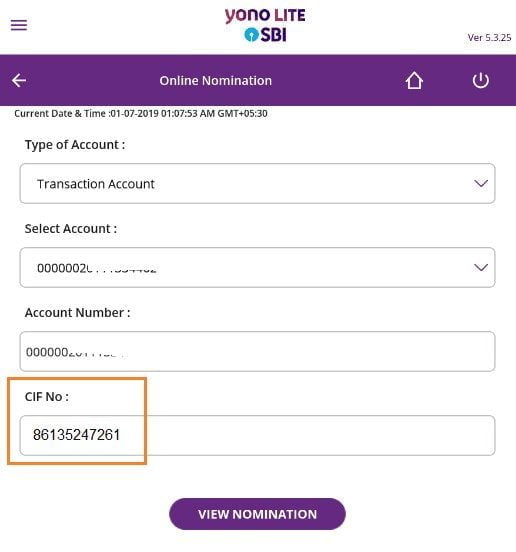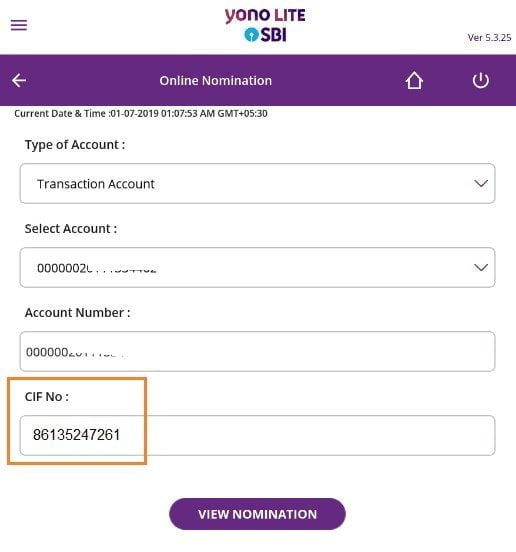 Find State bank of India CIF number using the checkbook
The customer can get his CIF number by his checkbook. But this method will work only when the customer has his checkbook. For that, you have to follow these steps-
Get the SBI CIF number by visiting your bank branch
You can get your CIF number by visiting any nearest SBI branch and asking for your CIF number. Firstly, they will ask you some questions to verify. Then, after some verification, they will provide you with your Customer Information File (CIF) number. For that, you need to carry your Passbook and id proof when visiting the Bank.
Get the CIF number by calling your bank's customer support
This method is for you if you don't have time to visit the SBI branch or don't want to waste your time putting in a long line in the SBI Branch. You can call on a toll-free number of SBI Customer Support, also known as Customer Care. And ask them to provide you with your CIF number. They will ask you some questions to verify your identity. After verification, they will provide you with your CIF number. You can call on the following toll-free numbers-
1800 425 3800
1800 11 2211
080-26599990
Frequently Asked Questions
Why Is The CIF Number Used?
CIF contains all the valuable information of an account holder in a digital form. Every CIF has a unique identification number known as a CIF number. It is used to retrieve all the information about the customer at the verification time.
How Can I Use Net Banking?
If you wish to use the net banking of any bank, you must apply at your local branch. You can use the net banking service through its net banking site once your net banking service is activated. The SBI has a website at www.sbionline.com,
How Can I Use Mobile Banking?
To use mobile banking, you have to download your Bank's mobile banking application on your phone.
Once you download the app, you have to register and link your account by entering your debit card information and CIF number.
After that, you can use Mobile banking for your bank account. SBI has its mobile banking application known as SBI Anywhere.
If A Customer Opens Another Account In The Same Bank, Will A New CIF Be Created For The New Account?
No, a bank makes CIF only once for a customer. After that, the same CIF number will be used for all customer accounts
 in that Bank
.
Can I Get The CIF Number Through SMS?
Currently, there is no way to know CIF no. through SMS
Conclusion
That is all about the CIF number of an SBI account without a passbook. In this article, we try to mention all the methods to get the CIF code without a passbook. If I missed anything in this post, let me know in the comment section.