State Bank of India (SBI) serves several banking services and is a well known public banking sector. State Bank of India is perhaps one of India's oldest banking institutions. SBI was founded on July 1st, 1955. Since then, SBI has evolved a lot, and today the bank offers surplus services to customers and businesses. You can find SBI working hours, SBI bank timings, and lunch timing. If you are looking for if sbi lunchtime or sbi working hours today, you can decide it from this article. 
SBI Working Hours: State Bank of India works from Monday to Saturday, and on 2nd & 4th Saturday, it's a bank holiday. 1st, 3rd, and 5th Saturdays of the month are referred to as working Saturdays (as per RBI press release on August 2015, with effect from September 1st, 2015). Other banking services like NEFT and RTGS have defined time slots in the bank.


State Bank of India provides several banking services, including
Savings account
Home loan
Personal loan
SBI also provides digital banking services with the help of a digital platform called YONO. Easy transactions, account summary, and additional banking assistance is easy with SBI YONO. Most people still prefer visiting their nearest State bank branch to carry out all the transactions. If visiting a nearby branch, know SBI working hours and SBI lunchtime, also is state bank working today?
Also, read – Steps To Close SBI Fixed Deposit Online, how can you Generate SBI Atm Pin By SMS & How To Activate SBI Internet Banking for the first time.
Let us find out more about SBI timings (Lunch Time & Working Hours)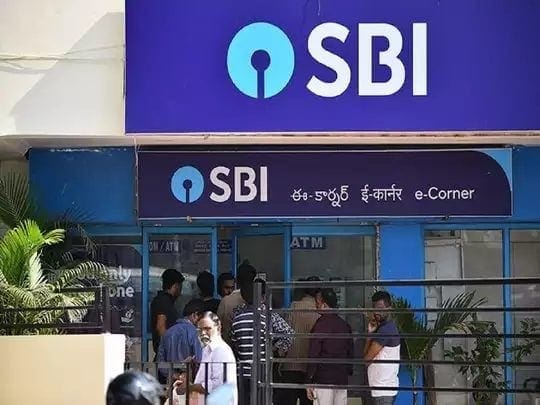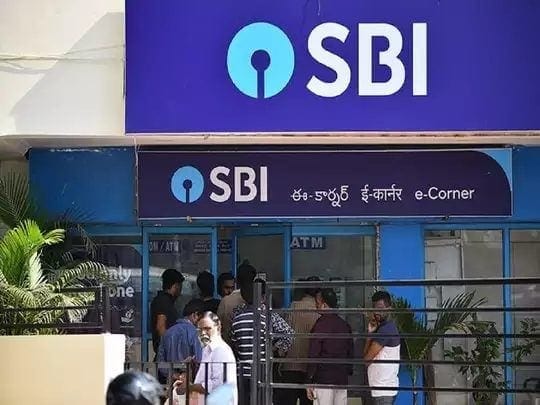 SBI had resorted to implementing staggered banking hours across the country after implementing nationwide lockdown due to COVID-19. However, after consultation with the respective state governments, the banks then decided to resume regular working hours, with effect from July 1st, 2020. All the banking services are now available at the bank, including account opening, withdrawal and cash deposit, cheque clearing, remittances, government transactions, passbook printing, note exchange, etc.
SBI Bank Timings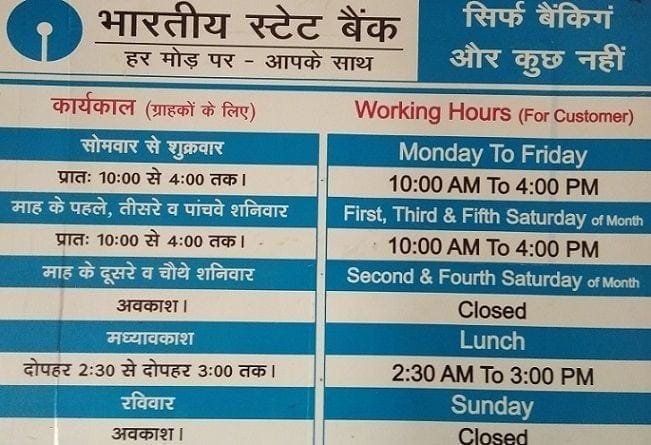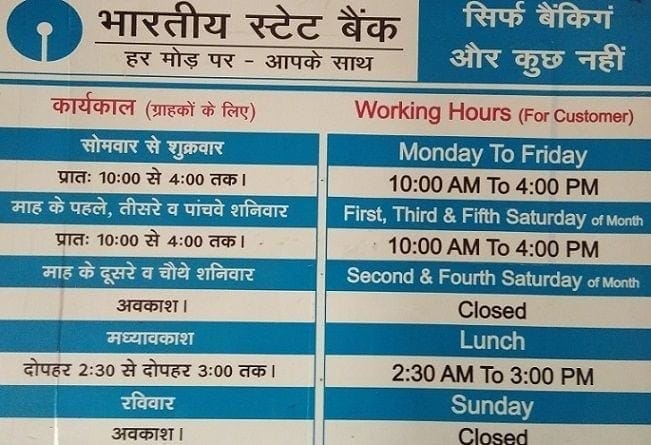 | Days | State Bank Of India Timings |
| --- | --- |
| Sunday | OFF |
| Monday | 10:00 AM to 4:00 PM |
| Tuesday | 10:00 AM to 4:00 PM |
| Wednesday | 10:00 AM to 4:00 PM |
| Thursday | 10:00 AM to 4:00 PM |
| Friday | 10:00 AM to 4:00 PM |
| SBI Timings For 1st, 3rd & 5th Saturday | 10:00 AM to 4:00 PM |
| SBI Timings on 2nd and 4th Saturday of Month | Closed |
| Sunday | Closed |
Follow the above table for SBI timings. If it is a bank holiday or you have urgent work and do not know sbi working hours or state bank lunchtime, use SBI Net Banking, YONO app, and SBI Mobile Banking services for all the financial and non-financial actions/transactions.
Once you get tuned with online banking, you do not have to google search for 'SBI bank open today?'.
Once you get tuned with online banking, you do not have to google search for 'SBI bank holiday, sbi lunchtime, sbi working hours, etc.
Also, check – What Is Lien Amount In State Bank Of India account & How To Enable International Transactions On SBI Debit Card.
State Bank Of India – Lunch Time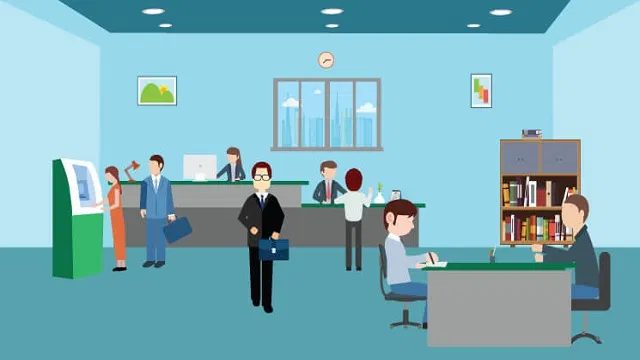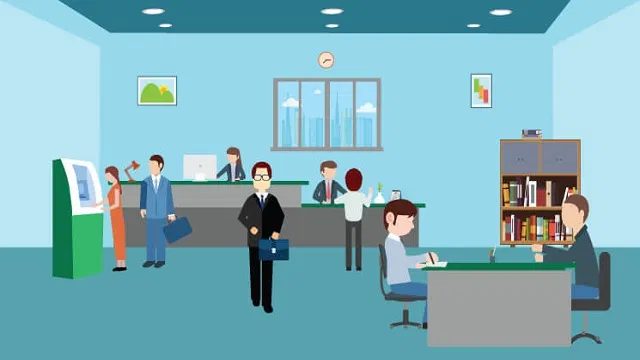 SBI bank opening time is 10:00 AM to 4:00 PM, which means that the bank works from Monday to Saturday for about 6.00 hours. By chance, you visit the bank at Lunchtime; there's an alternate cashier available who will assist you with inquiries and provide types of banking services.
| | |
| --- | --- |
| (SBI) State bank lunchtime | 2:30 PM to 3:00 PM |
SBI lunchtime varies from one branch to another. There's no particular lunch hour for the employees, as employees usually go for lunch in batches. However, the usual sbi lunchtime is between 2:30 PM to 3:00 PM.
It's to provide support to the customers so that they don't have to wait for SBI Lunchtime to be over.
India's state bank is an actively evolving bank and focuses on presenting high-quality customer service. SBI makes banking more convenient for the customers. SBI branch opening time and closing time may differ in the different regions. You can confirm it by calling the nearby SBI branch before visiting the bank.
You might like to read – How To Activate SBI Credit Card Online & Download SBI Bank Statement On Mobile.
SBI bank timings on Saturday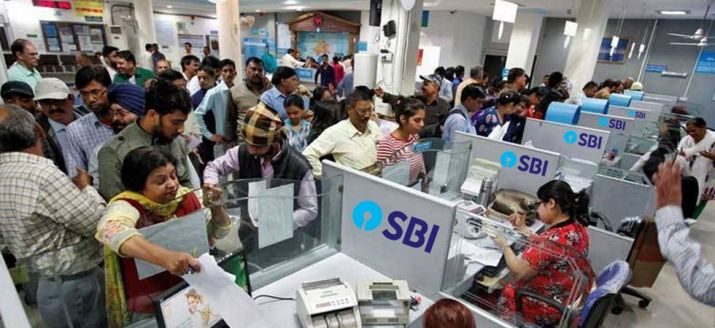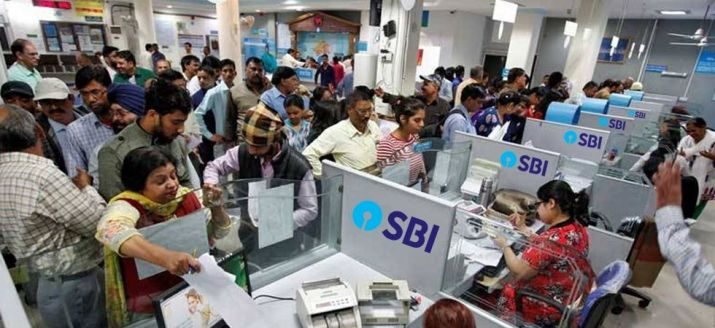 Business hours at a bank may depend on several factors like the branch's place, rules set by the bank to adhere to local laws, & the branch's customers. Example – High net worth consumers enjoy priority banking.
All banks tend to follow the exact timings, sometimes some of its branches follow a different set of business hours, mainly due to the reasons listed above. There can be a more or less an hour difference in the sbi timings of separate branches.
| | |
| --- | --- |
| Generic SBI Timings on 1st, 3rd, 5th Saturday | 10:00 AM to 4:00 PM |
SBI timings- NEFT/RTGS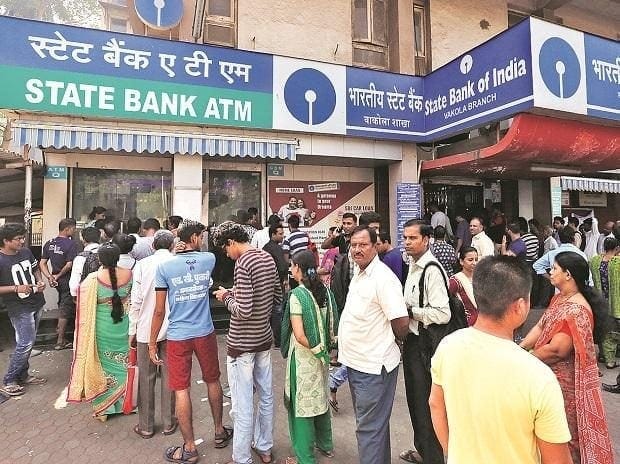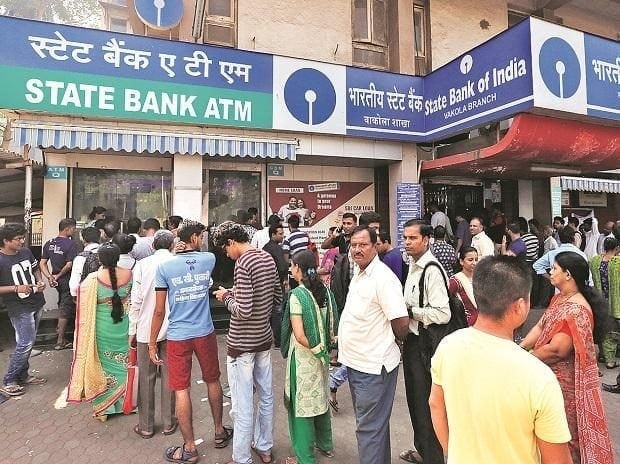 Using NEFT & RTGS Services from SBI, a customer can fund transfers to another bank or branch. If you are an SBI account holder, you can transfer funds using SBI net banking or mobile banking facilities. State Bank of India permits its consumers to make offline transfers by visiting a nearby SBI branch, for which you should be aware of the SBI Bank Timings. Here are the SBI NEFT Timings & RTGS timings:
| Fund Transfer Type | SBI Bank Timings |
| --- | --- |
| NEFT Transfer | 8:00 AM to 7 PM |
| RTGS Transfer | 8:00 AM to 4:30 PM |
The SBI does not allow NEFT or RTGS on the 2nd & 4th Saturdays of the month and Sundays and bank holidays. Any transaction made on the 2nd & 4th Saturday, Sundays, and bank holidays will get credited to the beneficiary's account on the next working day.
Related posts – How To Activate SBI Debit Card & How To Get CIF Number In SBI Without Passbook
SBI Services available on bank holidays or off days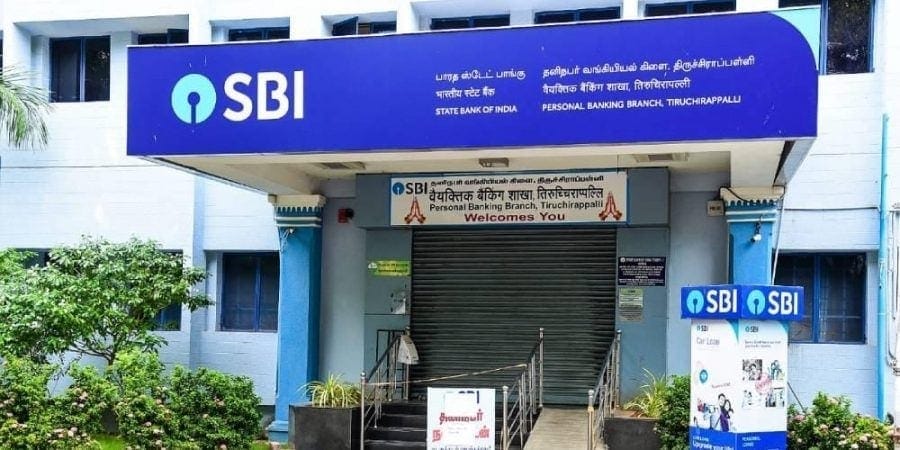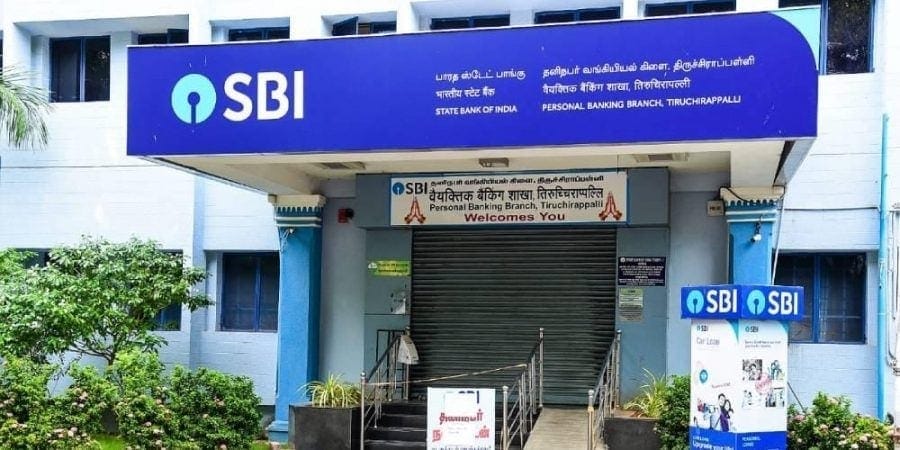 Bank services mentioned below are available on holidays or off days:
ATM Services
Access to Net-banking and Mobile-banking
(IMPS) Immediate Payment Service
(UPI) Unified Payments Interface
Cheque Drop facility at ATM/other Cheque Drop-boxes
Any physical banking service such as updating a passbook, getting forex from a bank, depositing or retrieving cash, viewing a bank locker, etc., are the services not available on bank holidays.
Please read – How To Report Sbi Atm Failed Transaction, How To Change Address In SBI Bank & How To Fill SBI Deposit Slip/Withdrawal Slip.
FAQs
Is There Any Lunch Break In SBI?
Yes, there's a lunch break in SBI. Lunch at SBI usually takes place between 2:30 and 3:00 p.m.
What Is Lunchtime In The Bank?
Lunchtime at SBI is between 2:30 PM and 3 PM. It can vary from branch to branch.
What Is The Working Time Of SBI Bank?
SBI bank opening time is 10:00 AM to 4:00 PM, which means the bank works for 6 hours.
Is SBI Bank Closed During Lunchtime?
During the launch time, employees normally take a break. However, if you're lucky, an alternate cashier (If available) may be able to assist you with your inquiries and provide some banking services at lunchtime.
Is SBI Closed On Wednesday?
No. SBI is not closed on Wednesday. The bank is usually shut on public holidays & Sundays.
Are The SBI ATMs Open On Bank Holidays?
Yes, ATMs are open 24*7, even on bank holidays.
On Which Saturdays Are The Banks Closed?
On the second and fourth Saturday, all private and public sector banks in India remain closed. If it is a national holiday on the first, third, or fifth Saturday of the month, the banks would then also remain closed on the same day.
Conclusion
Using this article, you can visit the nearby SBI branch at a suitable time. The bank owns more than 300,000 employees working with allegiance, extending customers with a great banking experience. Proper knowledge of SBI bank timings, SBI sbi working days, sbi bank working hours, etc., can help you save time using SBI banking services.